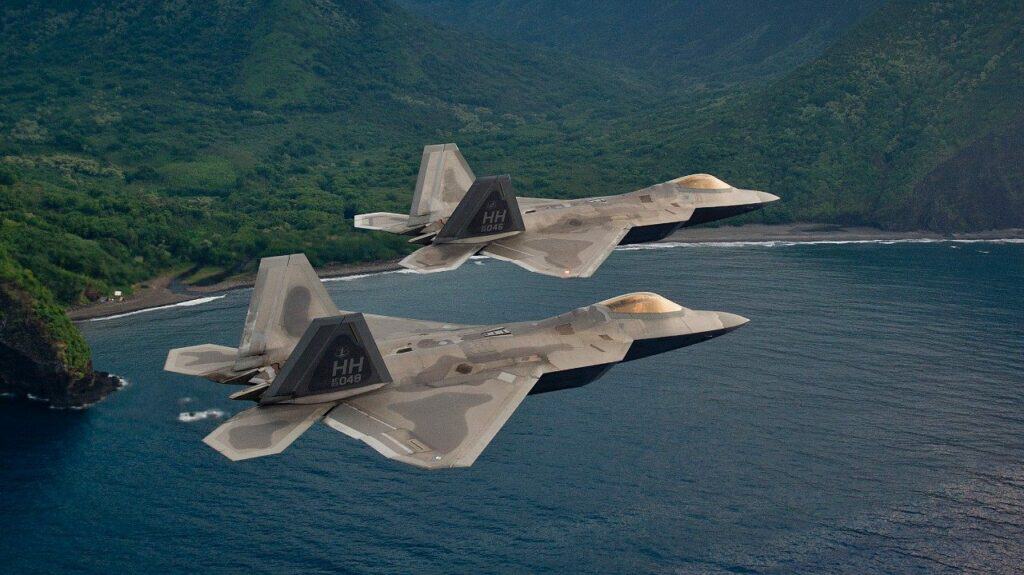 Although there are several other United States Air Force (USAF) articles on BogiDope we will recap the most up to date info and format it as the other branches for comparison purposes.
Through the USAF you have two options to become a pilot and attaining your wings:
Active Duty
Air Force National Guard (ANG) / Air Force Reserves
To serve in either of these options you must have a college degree from an accredited University and be under the age of 33 or younger by the start of Undergraduate Pilot Training (UPT).
Although for the Air National Guard and Air Force Reserves (Reserves) the first step may include taking your exams, rushing units, and applying and interviewing at each indivudal squadron, we'll skip these steps for the sake of comparison. If you're interested in learning more about getting a UPT through a ANG or Reserves unit be sure to read up on the articles HERE.
Commissioning is the first step we'll take into consideration for this article. You can receive a commission to become an United States Air Force Officer many ways including attending the Air Force Academy, completing AFROTC at an accredited University, or attending Officer Training School (OTS). OTS is an 8-week course in Montgomery, AL at Maxwell Air Force Base (AFB) where you will learn about officership areas such as leadership studies, professional knowledge, communication skills, military studies and field leadership application.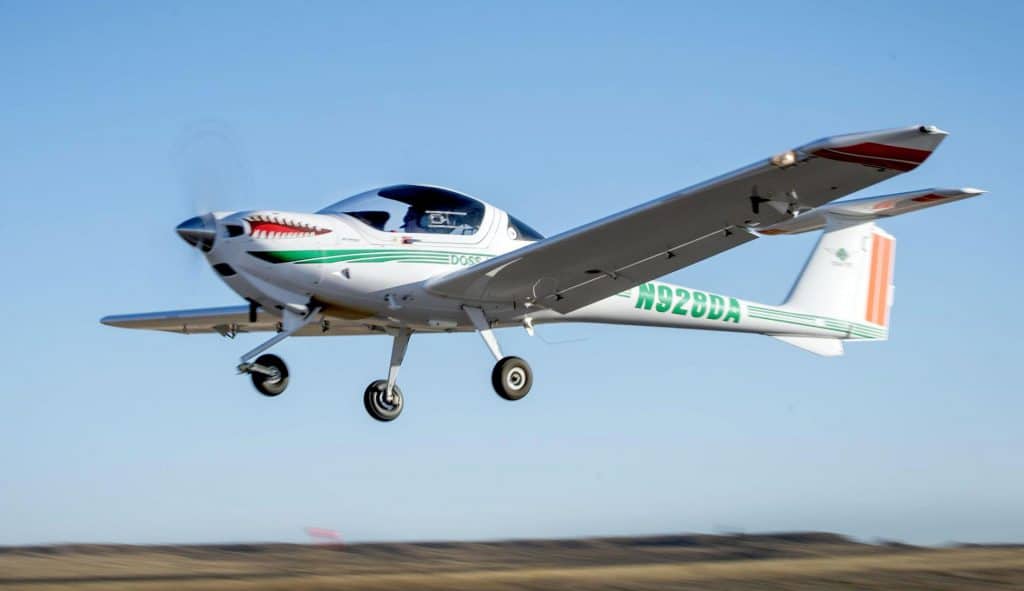 Following OTS, graduation from the Air Force Academy or a AFROTC Detachment, you will be a freshly minted 2nd Lieutenant with a bright shiny butter bar. Depending on your flight experience will depend on your next location and training. If you have an Federal Aviation Administration (FAA) Private Pilot's License (PPL) you will be able to bypass Initial Flight Training (IFT) and head directly to UPT. If you do not have a PPL, you will be headed to Pueblo, CO to spend 8-weeks learning to fly the mighty Diamond DA-20 (pictured above) at a whopping 125 HP. At IFT you will have both ground and flight lessons which include, but are not limited to aerodynamics, navigation, weather, airspace, and much more.
After IFT (if needed), you will attend UPT. Undergraduate Pilot Training is a year long course held at various different bases including: Euro-NATO Joint Jet Pilot Training (ENJJPT) at Sheppard AFB in Wichita Falls, TX, Vance AFB in Enid, OK, Laughlin AFB in Del Rio, TX or Columbus AFB in Columbus, MS.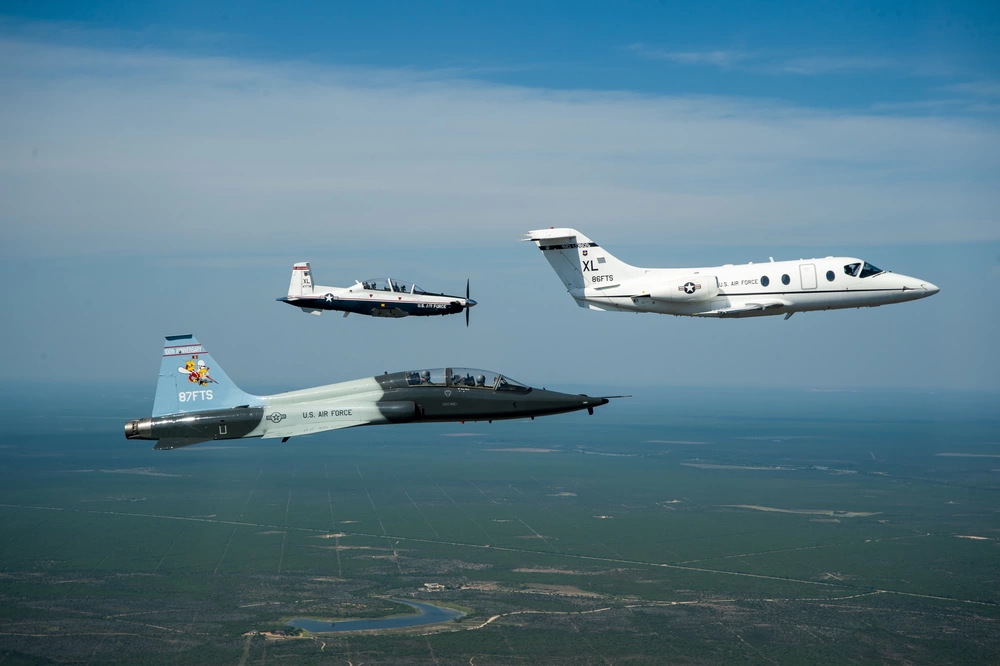 At UPT there are generally 3 phases:
Academics Classes and Pre-Flight Training (6-weeks)
Primary Aircraft Training (T-6) & Track Selection Process (6-months)
Advanced Aircraft Training (T-1, T-38) (3-4 months)
A few things to note about / that will occur at UPT are:
–Formal Release: Formal release is when the students and Instructor Pilots (Ips) are in the flight room or the flight line all day (12 hours). This usually takes place at the beginning of UPT and students must earn their way out of formal release.
–Standup: This is an event that takes place on the flight line during Phases 2 and 3 of UPT that prepares students for emergency procedures while in a classroom setting. You will be given an emergency procedure or question from the IP and have to stand up Infront of your peers and answer correctly. An incorrect answer provided during standup results in your name being taken off the flying list for that given day.
–Track Select: This event occurs at the end of Phase 2 and the T-6 Texan (which everyone flies) and determines what track and airframe the student will finish UPT in. This decision is based on a few things including the academics, flight training grades, check ride scores, flight commander ranking that rack-and stacks their students on a list, and candidates' personal choice. The Fighter and Bomber track will go on to fly the T-38 Talon, while the Airlift, Refueling, or Intelligence Surveillance, and Reconnaissance (ISR) airframes will continue to the T-1 Jayhawk (This article is being written in 2023, some UPT locations have transitioned to a UPT 2.5 syllabus and started to phase out the T-1 Jayhawk in replacement with simulators after the T-6 Texan. It is predicted the T-1 will be entirely phased out of all UPT bases by 2025).
–Dollar Ride: This is the first ride in that specific aircraft. This tradition normally involves the UPT student giving the IP a dollar bill for their first ride.
–Drop Night: An event held two-three weeks before graduation where UPT students invite friends and family to celebrate with them as they find out their follow-on assignment and airframe. This is a very large deal for Active Duty because this determines their fate the next 10 years of their life. For the ANG or Reserves bubbas, as long as you perform up to the standard to the airframe you were hired for, you knew what airframe you were going to fly when you reported to your first Flight Training Unit at UPT.
At UPT you are racked and stacked by the Merit Assignment Selection System (MASS). This is a method to gather your overall performance and compare it amongst your peers. Learn more about this HERE.
Following your completion of UPT (or the completion of Phase 2 if on the UPT 2.5 syllabus) you will receive your wings.

Fighter and Bomber bubbas will head to Introduction to Fighter Fundamentals (IFF) after UPT which is an 8-week course at Sheppard AFB in Wichita Falls, TX or Randolph AFB in San Antonio, TX that introduces you to tactics that you will apply in your airframe. Heavy, Tanker and Spec Ops pilots will PCS directly to their B-Course location and not attend IFF!
Your follow-on airframe training commonly referred to as "B-Course" standing for Basic Course. The B-Course location and duration varies greatly depending on the airframe you were selected to fly on Drop Night. Below will be a list of some of the aircraft assignments and their B-Course locations!
F-15C at Klamath Falls, OR
F-15E at Seymour Johnson AFB, NC
F-16 at Holloman AFB, NM or Kelly AFB, TX or Tucson International Airport, AZ
F-22 at Tyndall AFB, FL
F-35 at Luke AFB, AZ
B-1 at Dyess AFB, TX
B-2 at Whiteman AFB, MO
B-52 at Barksdale AFB, LA
C-17, KC-135, and the KC-46 at Altus AFB, OK
C-5 at Lackland AFB, TX
C-130 at Little Rock AFB, AR
MC-130, AC-130, HC-130, UH-1N, HH-60, and CV-22 at Kirtland AFB, NM
C-21 at Scott AFB, IL
U-28 at Hurlburt Field, FL
C-146 in Toronto, Canada followed by training at Duke Field, FL
First Assignment Instructor Pilot (FAIPs) at Randolph AFB, TX
Following your B-Course Completion or in some cases prior to, you'll TDY (Temporary Duty Assignment) to Fairchild AFB for SERE school. The curriculum at SERE has three parts:
Survival & Evasion
Resistance & Escape
Water Survival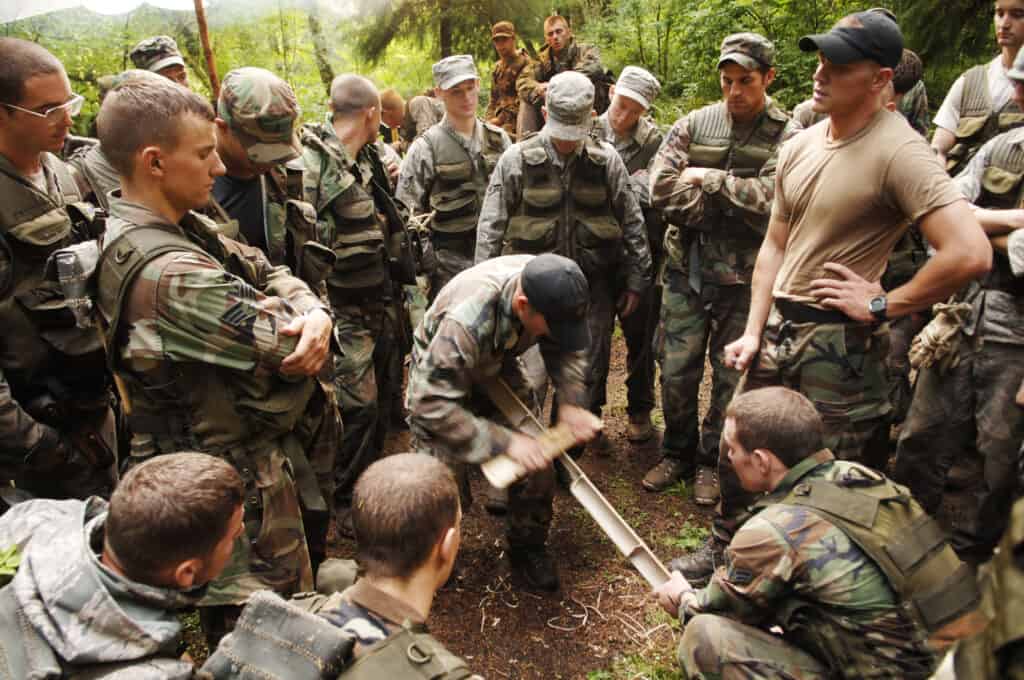 Most of the fun activates conducted at SERE school are classified, so we'll keep them that way!
B-Course / SERE ends and you finally head to your unit to become a fully Combat Mission Ready Air Force Pilot! For the Active-Duty folks this means staying in the same assignment every 2-4 years before PCS'ing to another unit, for ANG or Reserves this means reporting back to the unit that hired you almost 2-3 years ago!
To really foot stomp the difference between the ANG / Reserves and Active Duty there will be a comprehensive table below:
| | | |
| --- | --- | --- |
| | ANG / Reserves | Active Duty (AD) |
| Airframe: | Acquired and known prior to attending UPT | Based on performance at UPT and needs of Air Force |
| Location: | Same throughout career | Unknown and changes every 2-3 years |
| Opportunity to serve part time and get a civilian job? | Yes following becoming mission qualified | No full-time service throughout 10-year commitment |
To be clear, even with the ANG / Reserves assurance of your fate, you can wash out of the airframe you were hired for. For example: If you get hired in a fighter / bomber unit, but do not perform to fighter / bomber standards throughout UPT, IFF or B-Course then you can wash out and have to re-class to another airframe.
To ante-up some more information below will be a timeline of events that will occur following your hire at an Air National Guard / Reserve unit.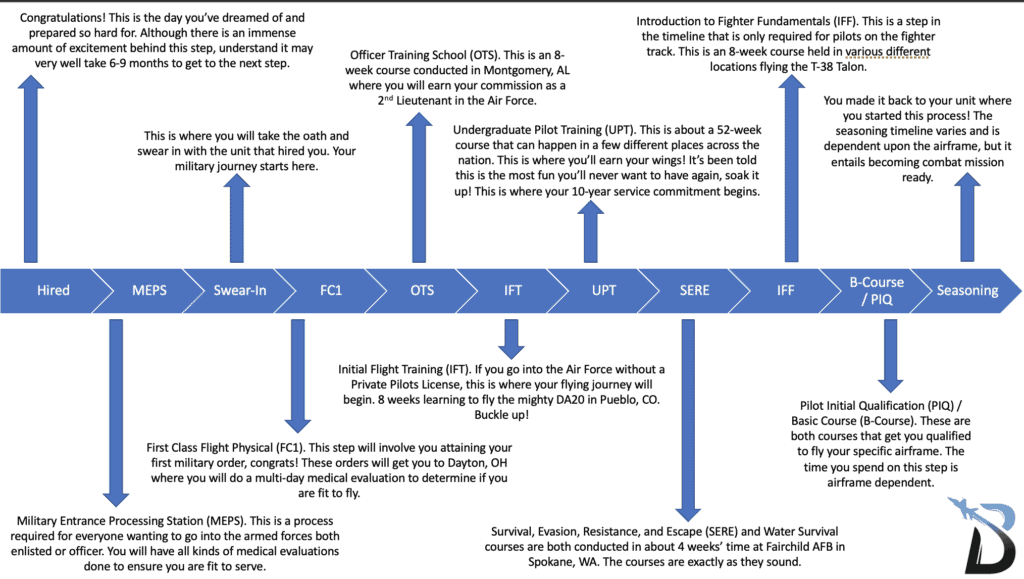 If you're genuinely interested in learning more about the different opportunities the Guard / Reserves / Active Duty realm has to offer, I encourage you to take a stroll through the BogiDope articles HERE. In the articles archive, you'll find an abundance of valuable information from experienced pilots that wrote these articles to help people like you!