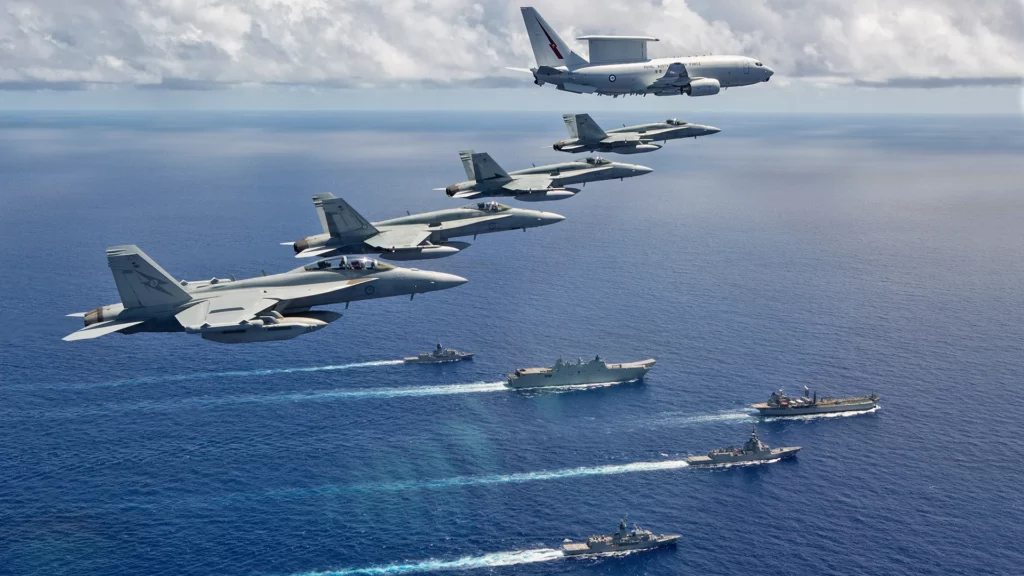 Want to catapult off carriers at 170 mph and land on moving runways only 300 feet long? Although this isn't every Naval aviator's job, they do conduct great worldwide missions both onshore and offshore.
The first step in becoming a Navy Pilot is to receive a commissioning source from either USNA, NROTC or Officer Candidate School (OCS) SNA (Student Naval Aviator) position.
If you go through the OCS route you will spend 13 weeks at Naval Station Newport in Rhode Island. OCS is designed to teach you about a military structure of the United States Navy, its rich history of traditions and customs, leadership development, military etiquette and to prepare you for becoming an officer.
Following OCS you will attend U.S. Naval Flight School which is composed of four different phases outlined below:
1. Aviation Pre-flight Indoctrination (API) which is a 6 week training located in Pensacola, Florida. Throughout these 6 weeks in sunny Florida you will learn things such as introductions to aerodynamics, aviation physiology, basic engine operations, navigation and land and sea survival. Generally speaking, the course is split and the first 3 weeks will be spent with all things aviation while the last 2-3 weeks devoted to sea and land survival. The sea survival portion can be fun because it is a mix of class work learning about survival equipment, release mechanisms, survival techniques and actual application in Pensacola Bay. Land survival will follow suit and consists of class and fieldwork focused on techniques of food procurement, map reading, and shelter building.
2. Primary Flight Training Primary Flight Training teaches the SNA the basics of flying. Primary flight Training (Primary for short) usually lasts 6 months in one of two locations: Naval Air Station Whiting Field in Pensacola, Florida or Naval Air Station Corpus Christi in Corpus Christi, Texas. Both Whiting Field and Corpus Christi use the T-6B Texan II to flight train for Primary. You will learn all about the T-6 and spend a lot of time getting to know it's systems and in the T-6 simulator. During Primary you will go through six stages. These stages in order are Familiarization (FAM), Basic Instruments, Precision Aerobatics, Formation, Night FAM, and Radio Instruments. At the completion of Primary, students will be selected based on grades and aptitude for follow on training in either jets, helicopters, turbo props or tilt rotors.
3. Following Primary, Intermediate Flight Training follows. Intermediate Flight Training is different for each of the 5 aircraft platforms that you are assigned. A helpful diagram of these tracks will be posted below!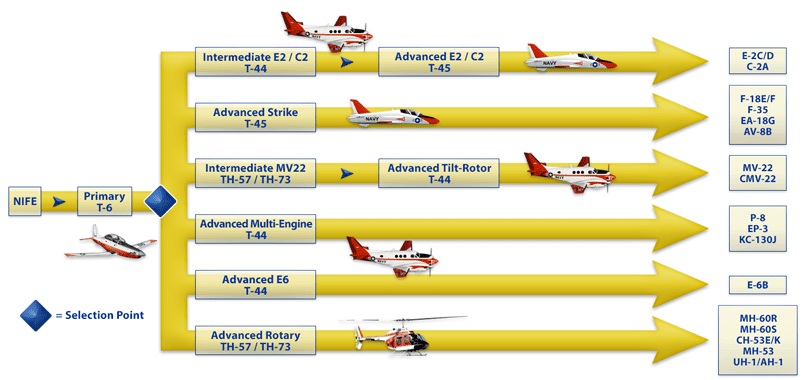 The syllabus and timeline for each training track varies. In a short synopsis training for single seat airframes such as the jet platforms focus on single pilot skills, while the multi-engine airframes will focus on crew coordination and crew resource management. Below will be another diagram of the Intermediate training locations for the specific airframes:
| | |
| --- | --- |
| Platform | Location |
| | |
| Jet | Meridian, MS or Kingsville, TX |
| | |
| E2/C2 | Corpus Christi, TX |
| | |
| Maritime | Corpus Christi, TX |
| | |
| Helicopter | Milton, FL |
| | |
| E-6 TACAMO | Corpus Christi, TX |
4. Advanced Flight Training follows Intermediate Flight Training and is the final stage of Naval Flight School. Advanced Flight Training is where SNA's refine and hone in their skills for their specific airframe such as such as air to air combat, bombing, search and rescue, aircraft carrier qualifications, over water navigation, and low-level flying.
Below will be a table of the Advance Training tracks and their given training locations:
| | |
| --- | --- |
| Platform | Location |
| | |
| Jet | Meridian, MS or Kingsville, TX |
| | |
| E2/C2 | Meridian, MS or Kingsville, TX |
| | |
| Maritime | Corpus Christi, TX |
| | |
| Helicopter | Pensacola, FL |
| | |
| E-6 TACAMO | Corpus Christi, TX |
After finishing Advanced Flight Training, SNAs receive their Naval Wings and head to the fleet.

Interested in learning more on Naval Aviation? Be sure to go HERE to check out the rest of BogiDope's articles regarding becoming a Naval Aviator!