Falcon 2000EX / 2000 Captain
Hiring POC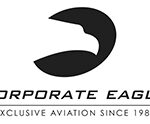 Website Corporate Eagle Management Services
Job Description:
Organization Name: Corporate Eagle Management Services, Inc.
Number of Openings: 4
Work Schedule: Full Time
Compensation: $126,700 – $182,800 (Captain) based on relevant experience.
Employment Start Date: Q3 – Q4 2022
 
In light of recent world events, are you becoming dissatisfied with your airline career?  Are you growing weary of being a faceless number?  Come talk to us.
 
Corporate Eagle has earned its place among the industry's premier aviation programs. As our company and fleet grow, we are always on the lookout for talented and motivated individuals to add to our unique team of professional pilots. We want to hear from confident and capable professionals looking for an opportunity with an industry-leading organization. We want to hear from YOU! 
 
Corporate Eagle is one of the industry's most innovative and successful providers of specialized business aviation services: a premium and exclusive, members-only flight department with a reputation for unmatched service, safety, and satisfaction. Since 1982, we have been based at the Oakland County International Airport (PTK) and operate from our state-of-the-art headquarters. See what we have to offer, and you may discover that you're a perfect fit for our team.
 
Our fleet currently consists of 17 aircraft (King Air, Hawker, Falcon, and Global) with a single base of operations located in Southeastern Michigan. Responsibilities include flight and ground duty as required as a flight crew member in domestic and international operations. Essential attributes that successful candidates must possess include the ability to provide exceptional service to our private Members, and maintain a high level of technical competence and professionalism. Pay advancements are scheduled on a performance-based progression plan.
 
POSITION DESCRIPTION
 
Position Summary – Flight crew members are responsible to professionally deliver Private Club level services to our Members, and must be committed to providing a safe, comfortable, and convenient experience.
 
INDUSTRY LEADING INTANGIBLES
Corporate Eagle pilots benefit from the same commitment to quality and excellence that we provide to our client members and professional partners. Our pilots enjoy perks and luxuries that are unmatched by any other service provider. Benefits include:
 
Participation in the TSA Known Crewmember® Program (KCM).
Training, travel and expense reimbursement.
Retention of rewards program bonuses.
Exclusive use of Marriott hotel properties, and Hertz rental cars for overnight trips.
Generous meal budget.
Pilot referral program.
Reimbursement for FAA medical exams and Passport.
Company-provided iPhone phone (with unlimited LTE data / international voice plans).
Company-provided iPad/EFB (with unlimited LTE data plan).
Clothing stipend.
 
COMPETITIVE PAY & BENEFITS
For over 38 years, Corporate Eagle's unique and sustainable business model has allowed us to offer competitive pay and benefits, and afford our pilots unmatched job stability and security. Some of the perks you will enjoy as a team member include:
 
Paid vacation time.
Guaranteed time off.
Health, dental and vision insurance with Health Savings Account (HSA).
Life insurance.
401(k) retirement plan with percentage match.
Paid bonuses for volunteer duty.
Deferred compensation program.
 
CAREER OPPORTUNITIES
Our pilots have access to unrivaled advancement opportunities and career progression – earning promotions on a clearly outlined progression plan. The  result is that there is no unnecessary waiting for advancement: you make the move  to CAPTAIN when YOU are ready. 
 
THOUGHTFUL SCHEDULING
Unlike other operators who consistently push their pilots to the regulatory limits, Corporate Eagle offers a manageable schedule with an emphasis on "quality-of-life." We have invested over $120,000 in custom crewing software that allows our pilots to create their own unique and personal schedules that allow maximum flexibility and control over their personal time.  Although overnight travel integral to the job, Corporate Eagle pilots are home-based and do not "live on the road;" our pilots spend fewer nights in the field.
 
FLEET & FACILITIES
Our pilots benefit from the same commitment to quality and excellence we provide to our Members and professional partners. We spare no expense to provide our pilot team with the finest facilities and impeccably maintained aircraft.
 
 
NOTE:  All pilots are full-time, direct employees of the company, and must reside within a 1-hour drive-time radius of PTK Airport.
Job Requirements:
REQUIREMENTS
Must be a citizen of the United States, or possess the legal right to work in the U.S., including the right to travel to/from the countries and cities Corporate Eagle serves.
Must possess the ability to read, speak, write, and understand the English language to no less than ICAO Operational Level 4.
Valid passport / travel authorizations with at least six (6) months validity remaining.
Submit to fingerprinting and TSA Criminal History Records Check (CHRC).
Submit to DOT pre-employment and random drug / alcohol screenings.
Submit to Pilot Records Improvement Act (PRIA) records checks.
Submit to National Driver Registry (NDR) records check.
Minimum of 1,500 hours of flight experience.
Airline Transport Pilot (ATP) certification (Airplane, Multi-Engine, Land).
FAA First-Class Medical Certificate.
 
ESSENTIAL JOB RESPONSIBILITIES
Operate in accordance with domestic and international regulations, FAA approved company procedures, industry best practices, and the highest level of aviation safety standards.
Coordinate Corporate Eagle team activities and efforts, preflight to post-flight, to ensure unified operations. 
Establish and exercise command authority so that decisions and responsibilities can be identified and acted upon with consistency and expediency.
 
KNOWLEDGE, SKILLS, AND ABILITIES
Working knowledge of the appropriate sections of the Federal Aviation Regulations, Airman's Information Manual, and Aircraft Manufactures Manuals.
Maintain competency required for scheduled flight, simulator and ground training scheduled and performed throughout the year. 
Maintain Airline Transport Pilot proficiency standards and continually strive to improve aviation skills and knowledge.
Continually evaluate and improve flight and ground performance. 
Pass a First Class medical examination every six (6) months.
Maintain basic computer knowledge and proficiency.
 
SUPERVISORY RESPONSIBILITIES
The professional management of the flight deck to include the coordination between flight crew members, and team members on the ground.
Representation of Corporate Eagle while on the job to the extent required to properly deliver safety, convenience and comfort to our Members.
 
SUCCESS FACTORS
Ability to promote and implement action plans.
Display of an enthusiastic spirit.
Mentoring and inspiration of subordinates.
Promoting the essence of teamwork by example.
Personal and company success oriented attitude.
Personal commitment and self-motivation.
Demonstrating an engaged attitude.
Hiring POC Phone: +1 248-461-9000