Nonrev Travel – The Overlooked Benefit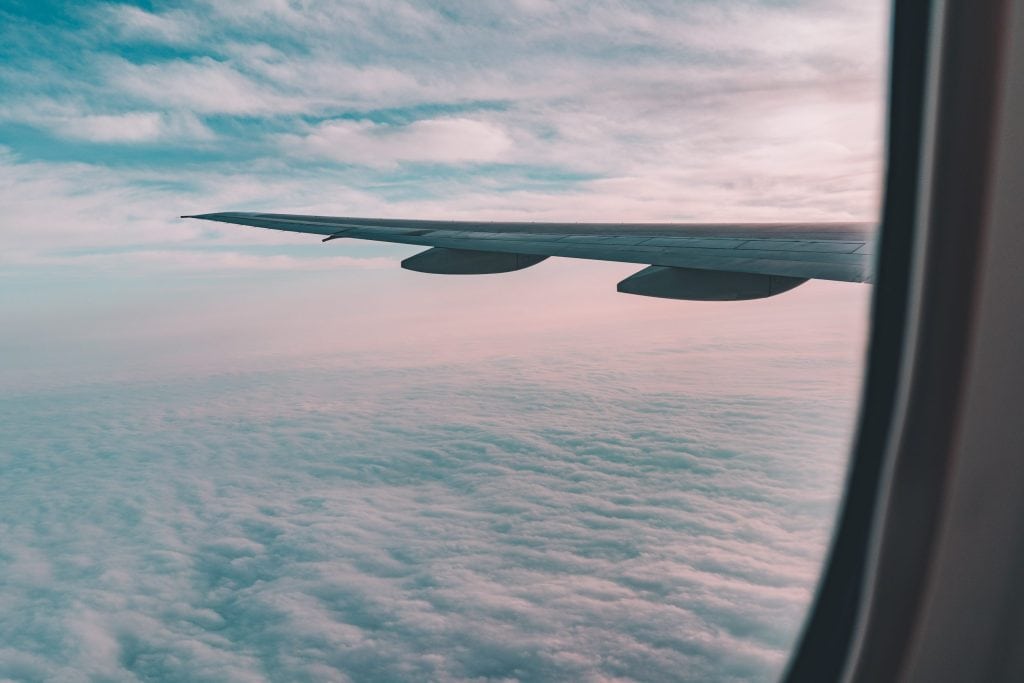 Originally posted on the TPN Community Website on May 9, 2017
I've worked hard to compare military vs airline compensation. My actual first-year pay ended up higher than I'd even hoped. When I do these comparisons, I try to limit my comparison to things I can quantify in terms of dollars. However, there's an outstanding benefit to some airline jobs that tends to get overlooked because it's difficult to quantify. That benefit is non-revenue (nonrev) travel.
If you work for a passenger airline, then you, your immediate family, and possibly some of your extended family or friends will get free standby travel in almost any empty seat on any of your company aircraft. This is also known as "nonreving." I want to illustrate the value of this benefit with two different scenarios:
1. Flying to Europe
My wife has been stationed in England on active duty with the USAF for the past few years. Any time I want to see her or my kids, I have to fly across the Atlantic. (Thankfully, this assignment ends soon!) Can you imagine paying for those tickets out of pocket? On my airline, it would cost me $1843.10 for a one-way ticket ($2422.86 round-trip) for a cramped seat in the main cabin. Put simply, this is unaffordable. I would only get to see my family a few times a year.
Thankfully, I've had nonrev benefits at my disposal. My father-in-law retired from American Airlines, so I got to ride with them a few times. I've since joined Delta and have my own travel benefits available. Not only do I fly virtually for free (I have to pay outrageously high taxes leaving London Heathrow,) but since I have high priority as an active employee, I end up riding in Business Class at least 75% of the time.
In case you've never done it, riding across the ocean in a Business Class seat is unlike any air travel experience you've ever known. The flight attendants treat you like royalty (or even better…they know you're an employee and want the golden rule to apply when they nonrev.) The food is amazing…the dinner you get would easily cost $50+ at a fancy restaurant. You drink whatever you want for free. You get a fluffy pillow and comforter from the Westin's Heavenly series. Your seat flattens out completely and you can sleep like a baby. If you're not tired, you get to use a very expensive Bose headset to watch movies on an oversized screen. It's just an awesome experience.
A one-way Business Class ticket from Atlanta to London costs $7765.10 at my airline. Round trip is $11,373.26. I have done at least one round trip every month since I got hired. Think about that for a minute.
When you're trying to compare pay, it's tough to quantify nonrev benefits because not everyone travels this much. (I certainly won't after my family moves back to the US.) However, over the past 15 months I've received nonrev benefits with a value well in excess of $150,000 from my company.
Even though you probably won't use nonrev benefits enough to get that kind of value from them, this form of compensation can't be overlooked. Even if all you do is take one big trip a year, you could increase your effective compensation by $11,000 or more per year by taking advantage of these benefits. If you enjoy traveling the world on your free time you could easily more than double the value of your annual compensation. Let's look at a more common scenario though:
2. House Hunting
When my family moves back from the UK we're going to need a house. My schedule last month had two individual days off sandwiched between work trips. Back when I had to pay for tickets, one day usually wasn't long enough to make traveling worth-while. It was expensive and getting to the airport was a hassle. Not anymore!
Almost on a whim, I decided to fly to Tampa and start house hunting. I went online and started by booking a jumpseat home so that I could be sure I'd be back in time for my trip. (Only the pilot/employee gets to book jumpseats. They're nice because once it's booked it's yours. You aren't on a standby status so you can't get bumped by a paying customer.) Then I booked a jumpseat to Tampa. The only one left was late at night, but it didn't matter. I drove to the airport that afternoon and walked to the gate for the next available flight. That one ended up having empty seats, so I rode it as a regular nonrev and cancelled my jumpseat reservation for that night. (Always cancel a jumpseat if you're not going to use it…common courtesy!)
As I was signing in for that flight, at least one customer walked up to the gate agent and asked to change their reservation from a later flight to this earlier one. My airline's policies require a $75 change fee in this case. (I don't love that policy, but our company made $6.1B last year so I guess it isn't hurting us too much.) Not only was I going to fly for free, but I'd just changed my reservation to an earlier flight without incurring any silly extra charges. The flexibility to change a flight at the last minute is just another great part of this benefit.
I used Expedia to get a dirt-cheap rental car and a deal on a hotel in Tampa. The next day I did some successful house hunting at very little cost. I showed up to the airport a few hours early again and did the same trick getting home. The first flight I tried to get on was full, but I only had to sit for an hour before the next one. I got home earlier than expected and had an easy, affordable trip. I ended up doing a similar trip a few days later and found a house. Without nonrev benefits, that could not possibly have happened with two individual days off between work.
We'll also be buying a car when they get back. Normally I limit car searches to places I can drive to in less than 2 or 3 hours. Even services like CarMax or Carvana are a bit of a pain. You have to wait to get your car, and when you do you've essentially purchased it sight-unseen. Yes, you can refuse or return it, but that's just more trouble. Instead, I'll be able to shop nationwide. If I find the perfect car in LA I can just hop the next flight out and take a look at it. I can buy it and come back another time to pick it up, or work on having it shipped anyway. I'll get to see what I'm buying first though, and that has some value for me. Have you ever wanted to chase concerts, ballgames, or other events around the country? Airline nonrev benefits can make that dream a reality. The potential value of having this type of travel flexibility is huge.
Limitations
Nonrev benefits don't always work out this well. Part of the reason airlines are so profitable right now is they've gotten really good at filling all their seats. (Maybe even too good in some cases.) For domestic US flying, aircraft tend to be full and it can be tough to get a seat. It's generally manageable if you're flying by yourself. Having the jumpseat as an option also helps. It can require a lot of flexibility if you're trying to take a family trip. Many pilots opt to just pay for regular tickets if they're traveling with a spouse and children.
This isn't the case for international travel though. I usually fly to London, but I've also met my family in Madrid, Dublin, Zurich, and other major European cities. There are almost always seats, and I get Business Class more than I ever thought I would.
The type of airline you work for makes a difference here too. If you fly for FedEx or UPS, you're not going to get this kind of benefit. The lower-budget carriers like Southwest, Jetblue, and Spirit tend to have higher load factors (ie. they keep their seats full,) meaning you're less likely to get a ride. With the exception of some JetBlue flights, these are generally single-class carriers too…meaning no chance of getting lie-flat seats and gourmet meals when you nonrev. (If you and your family are big into traveling, this might be a valid consideration in choosing what airlines you apply for.)
Seniority also plays a role in nonreving, as it does in every other aspect of an airline pilot's career. If two people are listed for the same seat, the one with the earlier hire date wins. This is just another reason to leave active duty and join an airline ASAP.
Conclusion
Nonreving isn't as great a deal for domestic travel as it once was. However, it can be extremely useful and open up possibilities in your life that you'd never have otherwise. If you're the kind of person who likes to Invest in Travel like my friend and TPN member Anthony Felix, or The Points Guy, then this benefit could serve as a $100,000+ per year bonus to go with your new airline job. All you need is a destination in mind and a little flexibility. Nonrev travel is a benefit that you just won't get in any other job. It's tough to quantify, but don't overlook it when you're trying to decide whether to stay in the military until 20 or get out now!
—
BogiDope is a proud sponsor of The Pilot Network, and this post is republished from their site with permission. You can read the original post here. You can also get more great TPN content on the TPN Community Website, on their free TPN-Go app (iPhone or Android), in their quarterly TPNQ magazine, and on their Podcast.
The feature image for this version was posted by Nicolas J Leclercq on Unsplash. Thanks and nice work!