Resources, Coaching & Community
Dedicated To Military Aviation
Prepare For
Career Takeoff
We've helped hundreds of aviators get into the cockpit of their dreams.
Now It's your turn.
Take Control of Your Aviation Career
Welcome to BogiDope, a community of aspiring and veteran military aviators. No matter your starting point or destination, we're here to offer the resources and guidance you need to launch and further your aviation career.
Through career building resources, expert coaching, and a community dedicated to military aviation, BogiDope is here to guide the next generation of military pilots.
Download the BogiDope App
Access a world of features designed to launch your aviation career. With the free BogiDope App, it's all in the palm of your hand.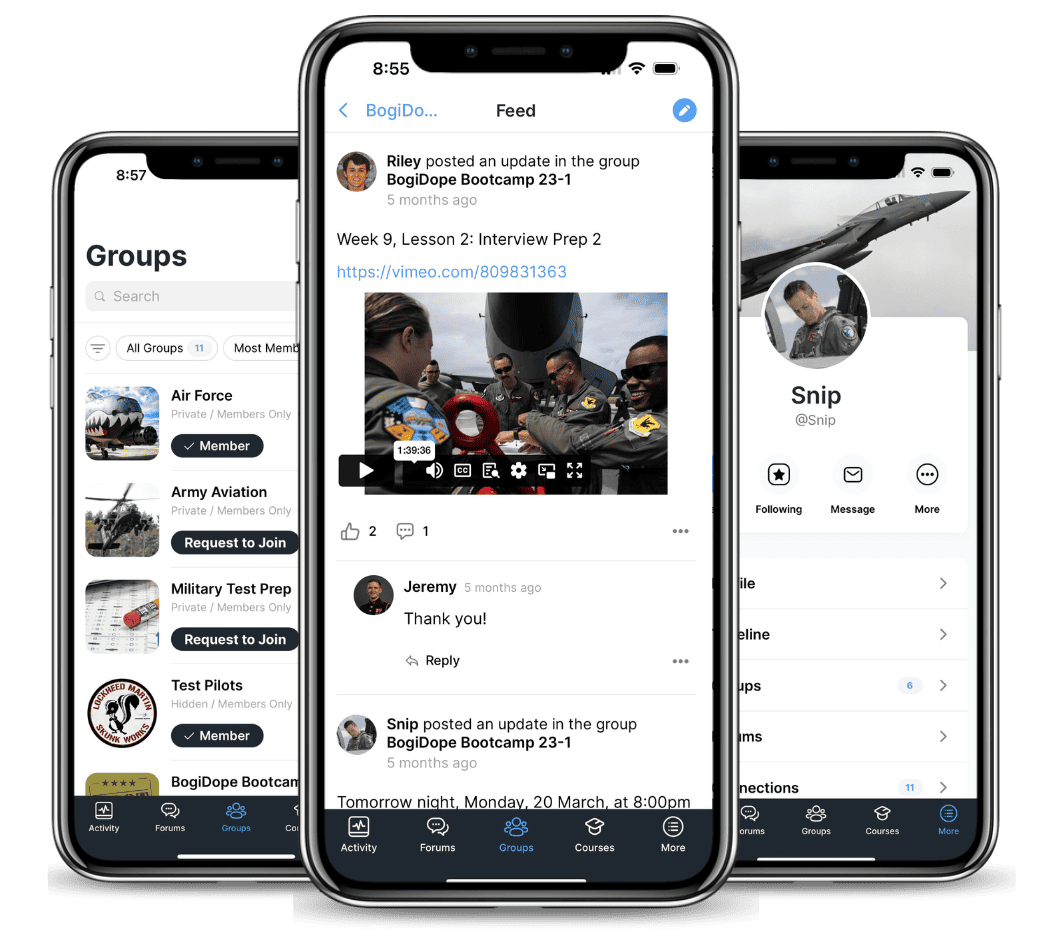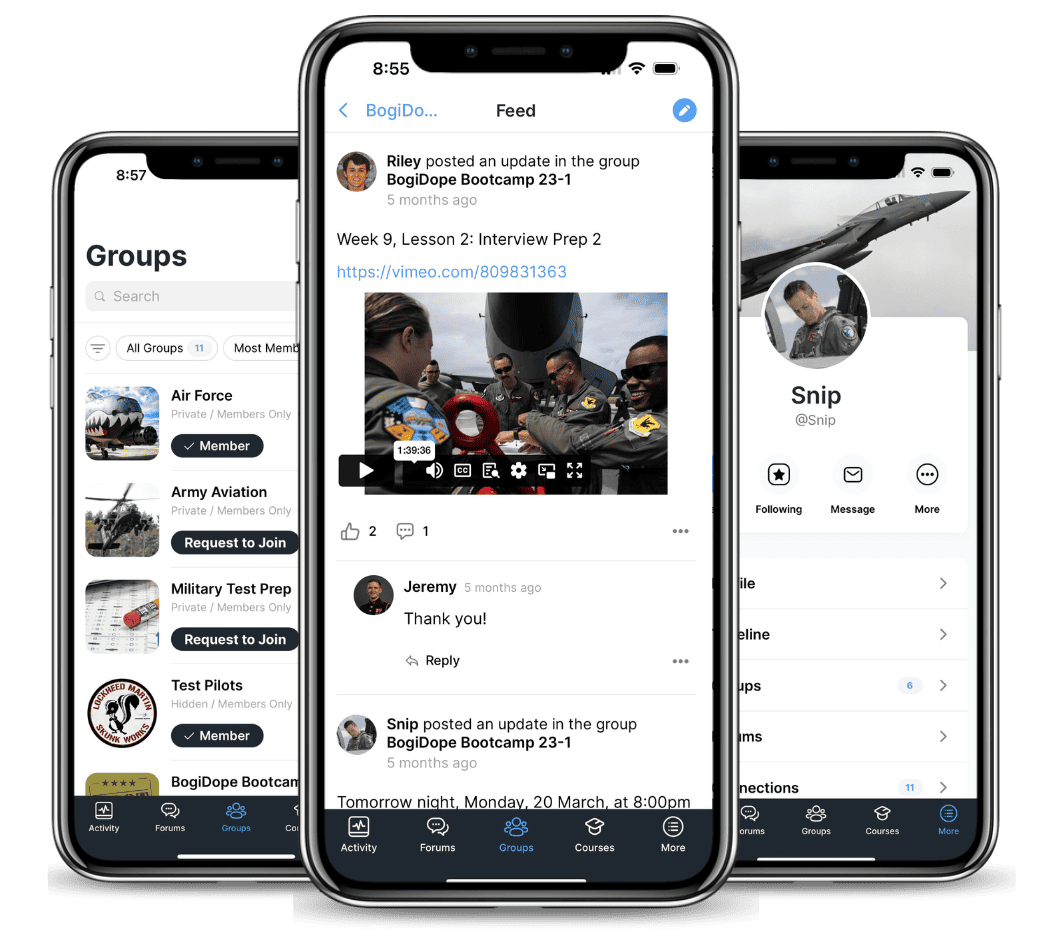 Career Building Resources
Transform Yourself Into the Ideal Candidate & Find Your Dream Job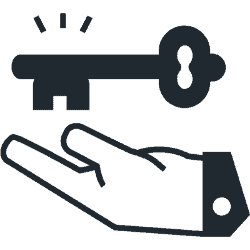 eCourses
From crafting the ideal application to preparing for your interview, access 12 dedicated eCourses on demand.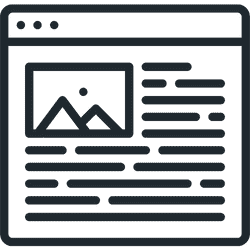 Article Library
Access 100+ industry articles written by veteran pilots for aspiring aviators.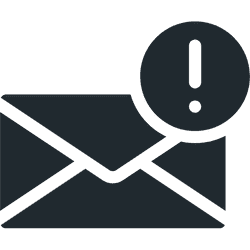 Job Announcements
Receive a weekly email roundup of aviation hiring info. Be among the first to know of new job openings.
Video Library
From brief Q&As to 90-minute lessons, BogiDope coaches cover every aspect of military aviation.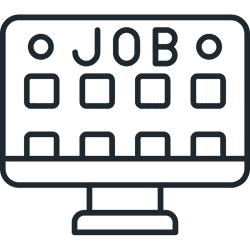 Job Board
View the most current and comprehensive list of hiring deadlines, requirements, and more.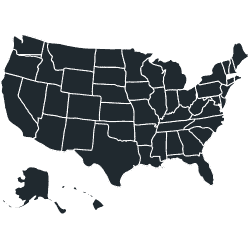 Squadron Map
View the locations and contact info of 175+ flying squadrons. Filter by aircraft, state, and more.
The Tools to Help You Succeed
Pilot slots are extremely competitive. Your application directly affects your chances to get an interview, and your interview directly affects your chances of getting the job offer.
Through your BogiDope membership, we'll guide you through the entire process—from the first draft of your resume to a mock interview at your dream squadron. We've already helped hundreds of other applicants achieve their dreams. It's your turn.
Gain the Guidance of Veteran Pilots, Military Test Prep Tutors & Beyond Group Coaching
Join a private group dedicated to a particular field of military aviation. Expert instructors host live webinars and office hours throughout the year. Engage with other group members via chat. 1-On-1 Coaching
Choose from a suite of 1-on-1 coaching sessions, including a General Strategy Session, Application Prep, Interview Prep, Test Prep Tutoring, and Medical Consultations.
A Community Dedicated to Military Aviation
Where Aspiring & Veteran Pilots Can Engage, Share & Grow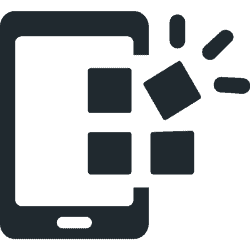 BogiDope App
The world of BogiDope is in the palm of your hand. Access every aspect of your membership in the free app.
Live Webinars
Learn live, alongside your peers, from real-world pilots. Grow with a group of like-minded aspiring aviators.
Private Chat
Exchange ideas, questions, and accomplishments with members of a dedicated group that suits your aims.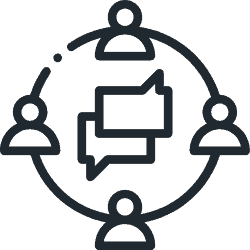 Forums
Where aviators communicate, ask questions, present ideas, offer insight, and share. It's like Reddit for pilots!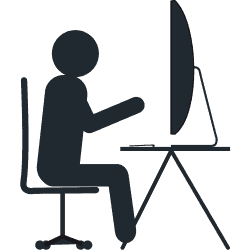 Office Hours
Ask your own unique questions and gain the direct guidance of your dedicated instructor.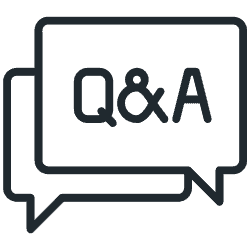 Q&As
Access a library of Q&A videos in which real-world pilots answer the real-world questions of your peers.
"I owe a lot of that success to the prep I did with you guys. It's no coincidence that after 7 failed interviews I decided to do the consultation and I was able to nail the 8th interview…over the phone.  So, thank you guys!  So stoked for the future."
Elliot U.
F-22 UPT Selectee
"They called me today and formally offered me the position so what you taught me definitely worked! I greatly appreciate all of your help and advice!"
Ivan D.
C-130 UPT Selectee
"I just found out that I got hired!  Thank you again for all your help. I reviewed all of my notes from our consulting and it was a huge help!"
Ryan R.
F-15 UPT Selectee
"I got the call that I was getting picked up #1 by the unit, and I'm 100% sure I would have been near the bottom of the pack without this interview prep.  It truly was the difference-maker in my situation...I have my strengths I bring to the table, but also weaknesses I needed to overcome (needing age and medical waivers) so a strong interview was crucial. ...it very well could be the difference between getting your dream job or not.  Totally worth it!"
Mike B.
F-16 UPT Selectee
"I am totally in shock that they decided to select me without having a face-to-face. I could have never done it without your help."
Daniel C.
C-17 UPT Selectee
"Thanks to your help, I was able to secure interviews at a lot of fighter squadrons.  As you might expect, based on our practice session, I got my ass handed to me in the interview.  Nerves, poorly formulated answers, and ultimately got rejected.  The experience was invaluable.  I took your notes to heart and did a much better job prepping for follow-on interviews. I was hired for F-22's, as well as A-10's.  I chose to go with the A-10's. I have been reflecting on the long list of people who have helped me continue moving forward towards this dream.  You were at the top of that list.  Thank you from the bottom of my heart."
Nick P.
A-10 UPT Selectee
"Interview went great!  Some questions I wasn't expecting but I think the process helped me think through them a lot, and it helped me convey the points I wanted to get across in the best possible way.  I was the #1 pick!  Unbelievable. Thank you for all the help!"
Kyle E.
F-15 UPT Selectee
"I got the slot!  I think it's safe to say that I absolutely couldn't have done it without BogiDope's help.  It gave me an enormous leg up."
Robert W.
F-16 UPT Selectee
"I'll be flying the A-10!  I can't wait to get to UPT and get started!  Thanks for all your help!  The interview prep was invaluable."
Nick C.
A-10 UPT Selectee
"I got the call tonight…I'm going to be an F-16 pilot!  Thank you so much for your help!  Your interview prep was spot on."
Luke O.
F-16 UPT Selectee
Founded in 2017
Owned and Operated by Military Pilots
Over 200 yrs of Combined Military Experience
Coaches From Fighters, Tankers, Cargo, RPAs, Spec Ops, and Helicopters
1,500+ 1-on-1 Coaching Sessions Completed
500+ Guard/Reserve Pilot Jobs Advertised on Job Board
1.3M Job Board Pageviews Annually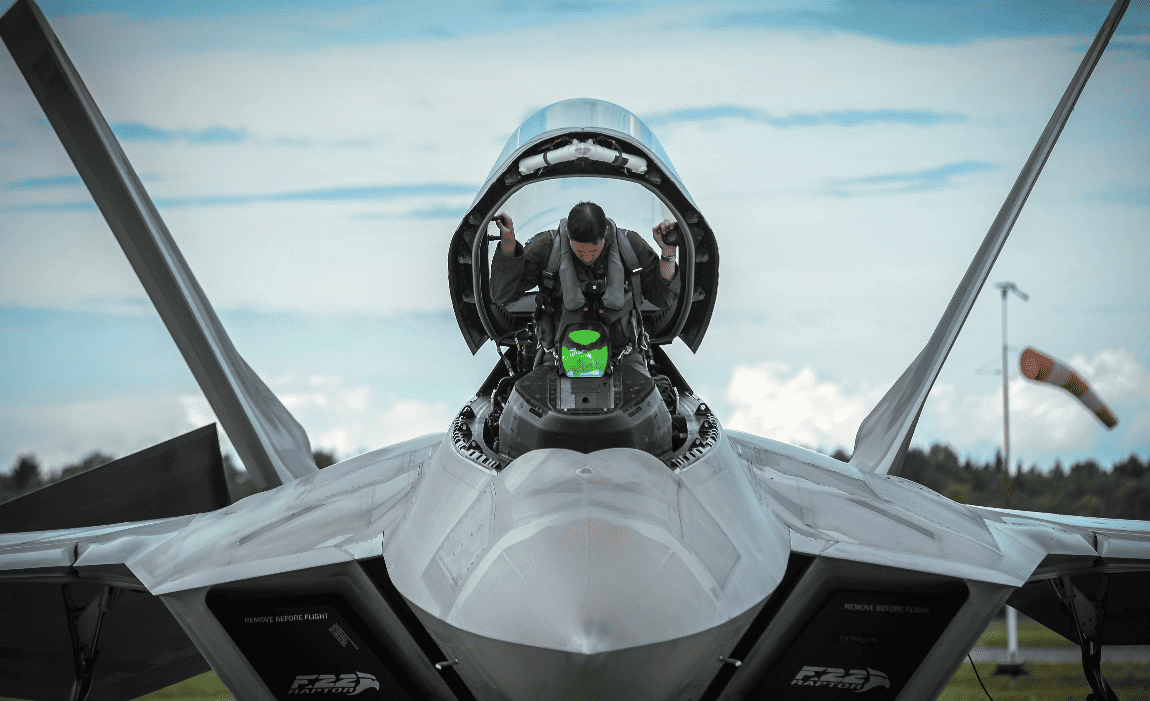 Become a BogiDope Member For Free
Free Members instantly unlock job announcement emails, forum access, and beyond.
Monthly, Premium, and Premium+ Members unlock so much more…