Welcome to the beginning of the greatest adventure of your life – applying to and ATTENDING the United States Air Force Academy! This course is designed to give you much better odds than the average acceptance rate of only 10% of applicants (just slightly better than Harvard or Yale). We don't say this to stress you out! But it should motivate you to work hard at finding every advantage you can.


The following diagram represents what we will call "The Big 4+1", and it's what the Academy uses to measure your "Whole Person." The top block is most important (Academics), then works down from there in order of how much value the Academy places on it. The "+1" is Employment and Other Extracurriculars. It includes everything else (like your job scooping ice cream or the equestrian club or karate) and is a catch-all. The Admissions Team will take pieces of each of the Big 4+1 blocks to build your Selection Composite Score (SCS). The higher your SCS, the higher your chances of receiving an Academy Appointment.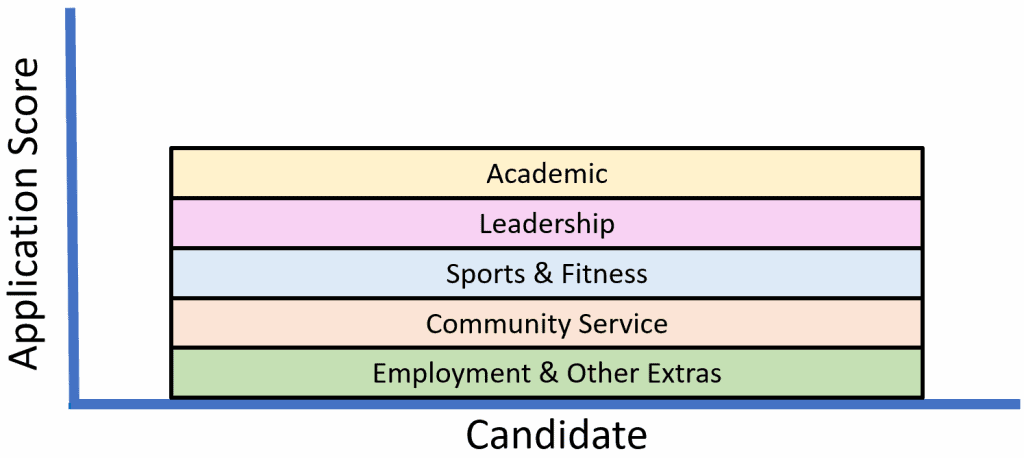 Once we've helped build your whole person, we will show you how to put your awesome self on the application so that the Academy sees it correctly and awards you the most points on your SCS.
A quick overview of the application process: Spoiler Alert! There are actually THREE applications that are separate and distinct:
Part I of the Academy Application: This is a pre-application that screens out unqualified applicants using the Pre-Candidate Questionnaire (PCQ).
The Nomination: You'll start applying for nominations at the same time you're working on the Academy Application Part I and II. The Nomination will come from an elected official. It is REQUIRED for your application even to be considered by the Academy. Also, the Nomination application is ENTIRELY separate from the Academy application. You will NOT submit your Nomination applications to the Academy. You'll submit them to your elected officials.
Part II of the Academy Application: This is the actual application where you'll showcase the "Big 4+1" mentioned above.
About the Course Creators
This course was created by a team of Air Force Academy graduates who were satisfied with the content only after hundreds of painstaking hours conducting research, to ensure the information presented in this course is as up-to-date and accurate as possible. The creators care about your success and are excited to share the vast amount of knowledge they've acquired to help give you the advantage you already deserve.
Primary Requirements to be Admitted into the Air Force Academy
While the requirements for entry into the Academy are many, the following list is non-negotiable:
Be a U.S. citizen or be able to obtain citizenship before entry into the Academy.
Be 17 years of age for direct entry but not have reached your 23rd birthday by July 1 of the entry year.
Be 17 years of age for prep school but not have reached your 22nd birthday by July 1 of the entry year.
Be unmarried.
Bear no legal obligation to support a child or other individual.
Not be in any significant legal troubles.
Have outstanding academics, balanced activities, and leadership potential (Big 4+1)
Not be pregnant.
Be of high moral character.
Pass a physical fitness test.
Pass a robust physical examination (DoDMERB) and have a clean mental health status (most mental health medications aren't allowed if currently being taken).
---
The Basics of the Application – A Summary
Here is how your application process will flow:
Gameplan Phase, where you should already be strategizing and executing how you will make yourself more competitive. This is where we will focus a lot on building your Big 4+1.

Application Part I Phase (Pre-Application), where you'll complete the Pre-Candidate Questionnaire (PCQ), a kind of pre-application to screen out uncompetitive applicants. This part of the Application will also include applying for a Nomination, usually from a Congressperson or the Vice-President. The Nomination application will include many of the same things as the official Application to the Academy, though the two are completely separate. During this phase, you will continue to work on the Big 4+1.

Application Part II Phase, where you'll be completing the actual official Academy Application to be admitted into USAFA. You will also continue polishing your Big 4+1.
*A note about the Nomination: Why is this required? Because it's written into federal law. You don't have to have political connections, just good Big 4+1 accomplishments.
The Academy will also grant you various "Statuses" along your journey:
Applicant: Everyone who fills out a Pre-Candidate Questionnaire (PCQ) becomes an Applicant.
Candidate: If your PCQ scores well, you will be promoted to Candidate after July 1st of your senior year.
Appointee: This is what you want to be, and it means you've been accepted into the Academy!
Cadet: You are promoted to this status on Day 1 of Basic Cadet Training.