Guide to US Air Force Academy Sports and Cadet Clubs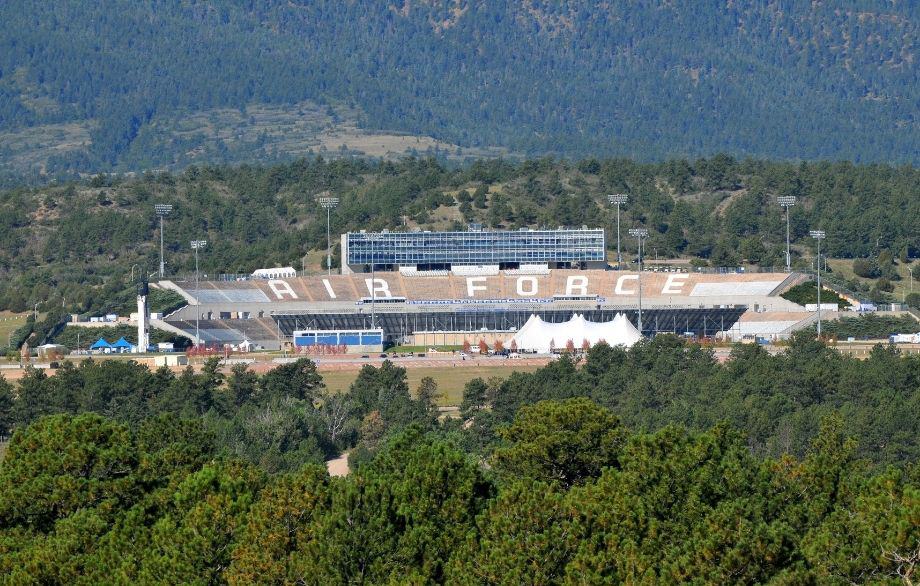 At the US Air Force Academy, sports are a staple of student life. Cadets are required to pass PE classes and fitness tests every year, but they're also required to play on a sports team. Luckily, cadets have plenty of options to choose from between the academy's NCAA Division I teams, intramural teams, and club sports. 
What Sports Does the Air Force Academy Offer?
Athletics are an integral part of the curriculum at the Air Force Academy. This means that all cadets must participate in the three pillars of the athletics program–physical education (PE) classes, physical fitness training and competitive sports. That's right–as a student at the USAFA, you are required to play sports!
Participation in sports underscores the academy's commitment to creating the leaders of tomorrow's world. In the academy's own words, athletics "foster initiative, teamwork and the will to win — attributes critical to the development of cadets into leaders of character."
The academy has 27 different Division I NCAA teams, including men's and women's sports. Here is a list of the top US Air Force Falcons intercollegiate teams.
Baseball (men's)

Basketball (men's and women's)

Boxing (men's)

Cross-country (men's and women's)

Fencing (men's and women's)

Football (men's)

Golf (men's)

Gymnastics (men's and women's)

Ice hockey (men's)

Lacrosse (men's)

Rifle (men's and women's)

Soccer (men's and women's)

Swimming and diving (men's and women's)

Tennis (men's and women's)

Track and field (men's and women's)

Water polo (men's)

Wrestling (men's)

Volleyball (women's)

Spirit (women's)
Is It Required To Play Sports When Attending Air Force Academy?
Yes, participation in the academy's athletics programs is mandatory. In addition to PE classes and personal physical fitness, cadets must be active on a team. 
 Of course, not every one of the academy's 4,000 cadets is on one of the Division I teams. Many participate in club sports or intramural sports instead. 
 Cadets must take 10 PE courses total, which works out to be 1.0 semester hours each of the four years you are a cadet. 
 Cadets must also complete physical fitness tests each semester they are at the academy. There is a Personal Fitness Test (PFT) and an Aerobic Fitness Test (AFT). Cadets who ace one or both of these tests have the option of joining the 500 Club or the exclusive 1000 Club. 
Air Force Academy (USAFA) — Intramural Sports
There are also ten different intramural programs. There are four or five sports offered and usually about 200 teams that face off each semester. The most competitive athletes go on to the Extramural Sports Program. These teams tour the country and compete in Regionals and Nationals, including big games against West Point and the Naval Academy. 
 The most popular intramural sports include the following.
Basketball

Soccer

Ultimate frisbee
Air Force Academy (USAFA) — Club Sports
Club sports allow cadets to participate without having to be on an intercollegiate or intramural team. There are over a dozen clubs that span all interests, from alpine skiing to ultimate frisbee. Here's a look at some of the current club sports.
Women's boxing

Cycling

Women's fast-pitch softball

Judo

Women's Lacrosse

Marathon

Rodeo

Rugby (men's and women's)

Skiing (Alpine, Nordic, or Freestyle/Snowboard)

Handball

Triathlon

Ultimate frisbee (men's and women's)

Men's volleyball

Women's water polo
Air Force Academy (USAFA) — Clubs
There are over 90 active clubs at the academy, which provide busy cadets with an excellent way to keep up with their hobbies and interests. Whatever you're into, chances are you'll find a group of like-minded souls at the academy. 
 Here are just a few of the academy's featured clubs.
Broadcasting

Honor Guard

Drum and Bugle

Falconry

Forensics Team

In the Stairwell A Capella all-male group

Mock Trial

Moot Court
Clubs are student-led organizations that an officer or other academy official oversees. Clubs are roughly divided by interest into mission support, affinity and culture, academic and professional, recreational, and sports clubs. 
Air Force Academy Sports Camps
USAFA Sports Camps are made for athletes ranging from 8 to 18 years old. Air Force Academy head coaches lead programs in three sessions that run during the summer. All sports camps are open to all, but there is limited availability, and they are booked on a first-come, first-served basis. 
 Here's a look at the Sports Camps offered at the academy.
Baseball

Basketball (men's and women's)

Cheerleading

Diving

Fencing

Golf

Gymnastics

Hockey

Lacrosse (men's and women's)

Soccer (men's and women's)

Swimming

Tennis

Track and cross country

Volleyball

PE Leadership

Wrestling
 In addition to these Sports Camps, the academy offers these Elite Camps.
Basketball (boys' and girls')

Football

Hockey

Volleyball
Air Force Academy Prep School
The academy's Preparatory School was established in 1961 to offer a pathway to join the academy. With the competition so high and the Air Force Academy acceptance rate so low, the prep school provides an excellent opportunity for cadet candidates to better their chances. Additionally, to further the prep school's mission of improving cadet candidates' academic, leadership and physical skill, it also has a complete athletics program. 
 The program is targeted to help prepare cadet candidates for the "physical, mental, and emotional rigors of NCAA Division I athletics."
Men's football

Men's and women's basketball

Coed Soccer
Conclusion
When it comes to sports and extracurricular activities, the sheer amount of options for cadets is staggering. The US Air Force Academy sports programs are world-renown as one of the top college athletics programs in the nation. With the Air Force Academy acceptance rate, athletics are an essential part of every cadet candidate's admission process and time at the school.