Hiring POC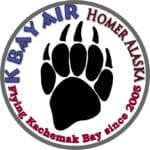 Website K Bay Air
About the job
A unique opportunity for adventure that you won't regret or forget. We provide a competitive compensation package including lodging assistance, sign-on / retention bonus, and a daily minimum guarantee. A family workplace atmosphere, a professional and fun place to work.
K- Bay Air is based in beautiful Homer, Alaska. Homer is a vibrant coastal town and is on the road system. K -Bay Air has a fleet of Cessna 206s on wheels and floats, and Beaver on floats. and offers summertime bear viewing tours on the coasts of Lake Clark and Katmai National Parks in addition to On-Demand charters and flight seeing. Off-airport (beach) training, and bear guide training. We are planning a training class in early May 2023.
We're looking for a motivated individual with excellent flying and interpersonal skills to join our team.
Job Summary
Primary function will be to act as Captain of Part 135 flights (single pilot) in South Central Alaska. This position includes both weekend and holiday work.
Duties & Responsibilities
• Serve as Pilot in Command (PIC) for part 135
• Oversee day-to-day operations
• Comply with all Company procedures, FAA regulations, and best-practices
• Deliver exemplary service to guests and clients
• Perform as bear viewing tour guide to guests in a variety of situations and weather conditions
• Perform other duties as assigned
• Seasonal commitment from May to September
Required:
1000 PIC with commercial / instrument rating 250 Alaska PIC. (May consider similar experience as a substitute on a case-by-case basis)
Candidate must be willing / able to relocate to Homer, Alaska during summer season. Must be able to lift over 50 lbs.
Candidate must be willing / able to work long summer Alaska days in all kinds of Alaska weather conditions.
Preferred: –
high performance time – advanced ratings/ broadening experiences (tailwheel experience, SES, multi engine, etc., is a plus) – mountain / off-airport experience – CFI preferred. – Wildlife guiding a plus.
Interested persons should send a resume, cover letter and references to KBAY.CAREERS@GMAIL.COM No phone calls please.
Hiring POC: William Leek
Hiring POC Phone: +1 877-522-9247