Hiring POC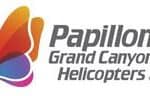 Website Papillon
Job Description:
Hiring Captains to fill spots for flight projects including tours over the Grand Canyon, and/or various contact flight work assignments.
We fly DHC6-Twin Otter w/Vistaliner Conversion and C208 Grand Caravan Cessna.
Job Requirements:
Unrestricted ATP Multi-Engine Certificate.
Willingness to relocate.
250 hours Multi-Engine.
100 hours Turbine Engine time.
Willingness to relocate.
Hiring POC Phone: +1 702-736-7243