Hiring POC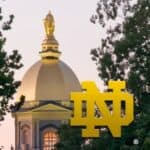 Website University of Notre Dame
Job Description
The University of Notre Dame is hiring a new pilot to join our best-in-class flight team. You will provide air transportation as pilot in command or second in command on the University aircraft, transporting University colleagues in a safe, secure and comfortable manner in a way that reflects positively on the reputation and image of Notre Dame at all times, exhibiting the highest levels of service and confidentiality. This is a unique opportunity to use your existing skills as a pilot while playing a vital role in helping Notre Dame achieve its goals to be a Force for Good in the world.
We know qualified pilots like you have many career opportunities. Here's why you might love this role:
The typical work day for a Notre Dame pilot begins and ends in South Bend.
In a normal year you spend fewer than 30 nights on the road and fly roughly 250 hours.
To be part of a mission where every member of the community plays a vital role in accomplishing a mission that is about so much more than our individual daily tasks
What makes Notre Dame special?
The amazing people on our team often cite the great work culture, the distinctive mission, the opportunity to build a career, and comprehensive best-in-class benefits , including a variety of educational benefits for employees, their spouses, and children.
As a Pilot in Command, you will be joining the Campus Safety and University Operations team, helping to promote a safe environment that allows the University to be at its very best: where students, faculty, staff and visitors can learn, teach, work, perform research, celebrate their faith and foster community. By building and promoting a best in class safety environment you will help people go home safe at night and parents will entrust their children to our care. Successful team members exhibit the following qualities:
Commitment to diversity and inclusion
Compassionate leadership
Effective communication
Operational excellence
Accountability.
This position Requires night and weekend flying. Secondary duties are assigned to each pilot as needed.
Minimum Qualifications
4 or more years of experience
FAA Medical Certificate First Class
1000 Flying hours
Must live within or relocate to within one hour of South Bend International Airport.
Preferred Qualifications
These qualifications are NOT required, but may enhance your ability to be considered a top candidate:
Bachelor's degree
Type rated in at least one jet airplane.
FAA Restricted Radiotelephone Operator Permit
FAA Airline Transport Pilot Certification
Total Flying Hours: 1500
Total Turbine Flying Hours 1000
Total Pilot-in-Command: 500
Special Instructions to Applicants
Department Aviation Department (10005)
Department Website
Family / Sub-Family Facilities / Aviation
Career Stream/Level EIC 3 Specialist
FLSA Status S1 – FT Exempt