Seasonal Float Plane Pilot
Hiring POC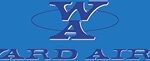 Website Ward Air
Job Description:
Ward Air, Inc. is a family-owned Part 135 on-demand air charter flight company located in Juneau, Alaska in operation since 1974. We fly to many unique and challenging locations throughout southeast Alaska as well as some locations in western British Columbia, and the Yukon.
Although most of our aircraft are on straight and amphibious floats, our Cessna 207 and one of our Cessna 206s are wheel equipped aircraft.
Our current fleet includes 13 aircraft:
two DeHavilland turbine Otters;
one DeHavilland turbine Beaver;
four DeHavilland piston Beavers;
one Cessna 207;
three Cessna 206's;
one Cessna 185; and
one Cessna 180.
We are seeking a qualified full time, seasonal Float Plane Pilot. The position is in Juneau, Alaska.  The summer season typically runs from mid-May through mid-September.
Duties and responsibilities of the successful applicant will be to:
Under the supervision of the Chief Pilot, work independently and as a team player;
Must be motivated, hardworking, energetic and love flying floats;
Follow all company policies and procedures;
Perform job duties in a safe manner; and
Perform other duties as assigned.
Pay Rate and Benefits:
Competitive daily pay rate;
Potential for season performance bonus; and
1 paid holiday (4th of July) during the summer season.
Job Requirements:
Part 135 minimum requirements;
Commercial pilot rating with seaplane endorsement;
1,200 hours total time;
500 hours float time (Alaska float time preferred);
Must be able to pass a drug & alcohol test;
Excellent customer service skills;
Valid driver's license;
Ability to follow and comply with all safety rules and regulations; and
Ability to lift up to 50 pounds.
Applicant must include total time, float time and Alaska time by aircraft type with application.
Hiring POC Phone: +1 907-789-9150