Side Hustles Part 3 – Icon Adventure

Networkers, feast your eyes: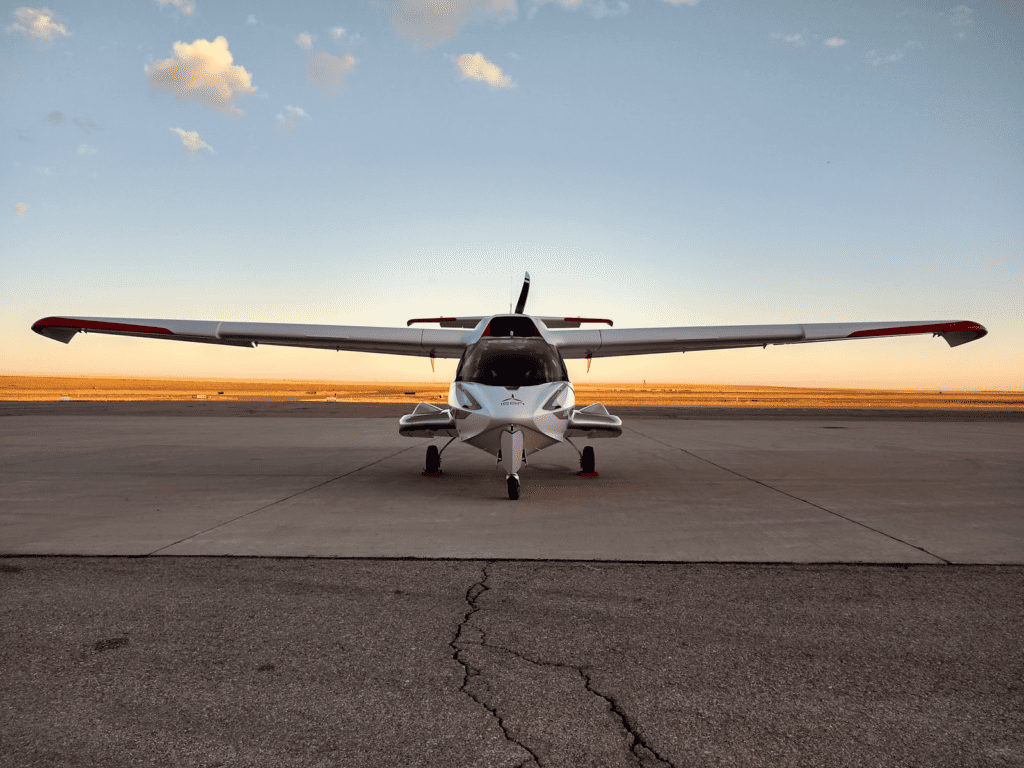 Gorgeous, isn't it? Now, wipe the drool before your spouse or significant other catches you checking it out.
This is not my airplane, but I did get to spend 22 hours (over the course of a few days) flying it from the factory in Vacaville, CA to its new owner in Minneapolis, MN. Not only was the trip awesome, I earned a sizable chunk of change for my efforts. In a way this is just a trip report, but I hope it's more for you. I want you to see how much enjoyment a good side-hustle can add to your life. I recently wrote about how being a major airline pilot offers the time and opportunity for doing fun things in your spare time. I hope this will get you started thinking about what you would love doing as a side-hustle.
How Did This Happen?
I also wrote recently about how things like this don't just fall in your lap – you have to help your own stars align. I started that process years ago by earning (buying?) a seaplane rating and earning (yes, actually earning) a flight instructor rating. I spent several years teaching, and happened to follow the news on Icon Aircraft. When they advertised (here on TPN) an opening for a part-time flight instructor, I jumped on the opportunity.
I love teaching and I love the A5. I can't help but convey my feelings as I fly with my students, and we usually end up building a decent rapport. One of my students was just a couple of months from taking delivery of his brand new aircraft. He's from Minneapolis and I asked if he was going to pick it up in California and fly it home himself. He said he'd like to but was too busy with work. I said something like, "Too bad, that'd be a fun trip. I'd love to do it."
I honestly did not expect his next question to be: "Would you really?"
At that point in my life, I'd also been aligning my stars in some other ways. My airline job leaves me with all kinds of time off…generally 5-7 days between trips, sometimes even more. I knew I could squeeze in an aircraft delivery.
Many long-time jet pilots, especially those in the military, would feel incapable of making this trip. How do I fly halfway across the country in a VFR-only light aircraft with no FMS and a single, 100 hp motor? Who do I need to talk to? Do I need to file a flight plan, and if so how? Where do I get gas? Thankfully, I've been active in General Aviation for most of my flying career. I even own a C-170A that I've flown across large swaths of the country using nothing more sophisticated than a chart, a watch, and a window. I knew that I was more than capable of making this happen.
I told my student, "My daily rate is [what Icon pays me] plus expenses."
He said, "You're hired!" without batting an eyelash. (If you can afford $389K for an A5, the fee I had just quoted him was effectively nothing.)
Planning
At first, I'd imagined three easy days of flying with stops to visit friends in Salt Lake and Rapid City. Unfortunately, I found out that his delivery was scheduled for November. The A5 climbs surprisingly well for only having a 100 hp Rotax 912iS, and I figure it'd do just fine sneaking through mountain passes in the Rockies. Sadly, I couldn't expect those passes to remain reliably clear in wintertime.
Instead, I planned to head south and stop in to see a friend in Mojave before turning east. I figured I could hook around the bottom of the Rockies near Santa Fe and fly up the front range from there. The route had lots of options for impromptu fuel stops, much less terrain, and options to adapt my route if the weather changed drastically.
I coordinated with the appropriate people at Icon so that they knew I'd be showing up. I also let my customer know that he needed to add me to his insurance before I could fly his airplane. This administrative stuff was actually a lot more involved than my flight planning. I'd like to say that I did more planning than this, but if there's one thing that the military taught me it's: No plan ever survives initial contact with the enemy.
Day 1
I booked a ticket and flew to California. (My airline doesn't let us use nonrev travel for personal business. Frustrating rule, but my customer was paying so it worked out.) Since I'd be starting on the west coast I had to fly out the night before. If I'd tried to arrive on an airline and depart the same day in an A5, it'd be too late to get very far.
Day 2
The next morning (Wednesday) I took an Uber to the Icon Factory. The sales manager took me on a tour, and I was thoroughly impressed. It's taken Icon a decade to get their production system in place, but they've done a good job with it.
Murphy was with me that morning because the airplane wasn't ready to go when I showed up. A pre-delivery check had revealed a small squawk and they told me it'd be resolved by 10:00 or so. (That ETIC slipped to the right…like it always does.) That was okay because California was covered in clouds that day making things MVFR at best. The forecasts promised that the skies would clear, so I had time to kill. (Note: on a trip like this, plan to start out at the crack of dawn, but give yourself all day. Something will come up. Re: Murphy.)
I also had another issue to deal with that morning: insurance. Aviation insurance isn't nearly as easy as automotive. A ferry pilot, like me, has to be specifically named on the policy in order for the owner to be protected. I could risk flying the plane without that, but if anything happened the owner could sue me and I don't want to spend $389K on an A5 unless I get to continue flying it in the future. Since the A5 is an amphibious Light Sport Aircraft, insurance companies can be a little leery of it.
It turns out my customer hadn't actually secured an insurance policy. I also had a hard time getting him on the phone, so my morning included a flurry of emails trying to get him to call his insurance company, his insurance company to call him back, and them to write my name on the policy document. In the end, things finally fell into place when I sent them all a picture of the airplane, on the ramp and ready to go saying, "I'd like to depart now. Can we finalize this?" (Note: when doing ferry work, refuse to schedule anything until you've seen your own name in black & white on an insurance document. Don't assume it'll get done in time!)
Thankfully, all the reports said the weather had cleared enough for me to get out of there. I loaded up, and blasted off. If you're familiar, KVCB is just north of Travis AFB. I actually called Travis tower and got permission to climb through their airspace. They were much more friendly than some other Air Force bases, as we'll see shortly.
I climbed straight to 9,500' and headed south, hoping to skirt to the east of LA's Class B airspace, or duck under the outer shelf if need be. Unfortunately, the weather guessers had lied and it was far cloudier than I expected. (I know, you're not surprised either.)
I tried to pick my way around clouds, always maintaining my VFR cloud clearances (3 x Cessna 152s!), but ended up stuck over my grandpa's house in Livermore. West was reporting a little better (I had a home-made ADS-B receiver feeding me fantastic real-time weather data – http://stratux.me/,) so I turned west and pressed toward the coast. I made it to the ridgeline west of Palo Alto before giving up again. At this point, I was at a loss so I landed at KPAO, topped off my fuel tanks, and sat on the porch in a bit of a huff. This was not how this trip was supposed to go.
A random pilot stopped by to ogle my airplane (this happens all the time when you fly the A5) and that lifted my spirits a bit. I watched things appear to clear out to the south and confirmed what I was seeing with ForeFlight. With plenty of daylight remaining, I figured I might as well give it another try.
I climbed past Moffet and San Jose and found that I was able to stay clear of clouds above a scattered deck as I pressed further south. Things cleared up as the terrain spread out and I found myself finally enjoying the view from my luxury automobile-style interior.
The A5 is not a fast airplane. I made decent time southbound but ended up arriving at Mojave after dark. I'd texted a buddy who worked at Scaled Composites before I took off from Palo Alto. He mentioned that a certain awesome airplane was doing high-speed taxi tests that day. I had visions of giving them a salute in the form of a less-than-high-speed fly-by, then getting the tiny A5's picture taken next to the Goliath, but they'd put it to bed long before I arrived. Thankfully though, my buddy was waiting for me. He helped me fuel up and tie down while admiring the composite work of my aircraft. (Praise from that company's now-former VP of Manufacturing Operations is high praise indeed!) He gave me a tour of the airport which includes Scaled, Virgin Galactic, and several other companies including one that flies the only operational L-1011 in the world. I told him I needed to leave early, so he dropped me off at a hotel and I zonked out. (Remember, I was still on east coast time.)
Day 3
I woke up on Thursday morning to the sound of rain. I looked out my window to see that it wasn't bad: -DZ at worst. ForeFlight showed some rain along the initial portion of my route, but the ceilings were reporting just good enough for legal VFR. I loaded up and got going nice and early. (Note: always fuel up when you land. You'll invariably be in a rush the next morning.)
Edwards AFB has a bunch of restricted areas that were obnoxiously located along my route. I had Mojave tower try to coordinate passage through them, knowing that the rain and low ceilings were certainly precluding any test activity that day. Edwards was not helpful, so I flew as close to the border of their airspace as I could. (Take that passive aggression, jerks!) I was close enough to get some great views of a few lakebed runways. If it had been my airplane, I would have snuck in for a touch & go.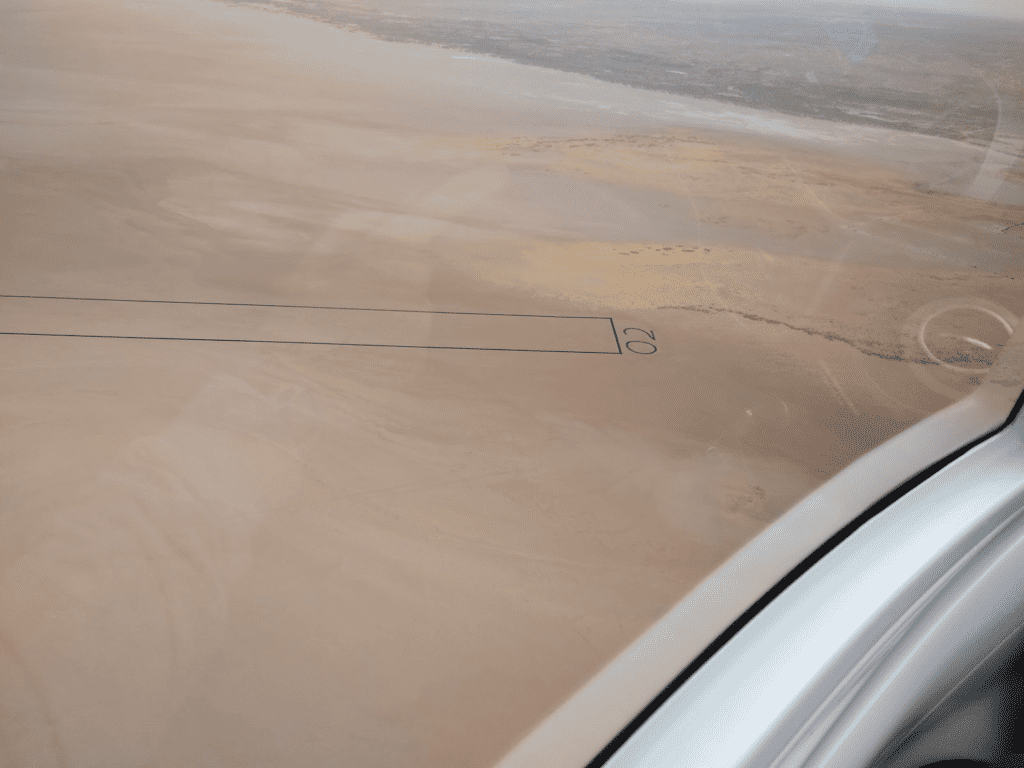 I was glad I hadn't taken the side windows out for this trip as I flew through rain for a good hour. Eventually, I punched out of the mess right where my ADS-B weather data said I would. I was suddenly staring at gorgeous open spaces and blue skies. In the panoramic cockpit of the A5, this is truly a wonderful sight.

Once I made it around Edwards' airspace, it was a straight-shot to Flagstaff. I passed over some fascinating terrain and got all kinds of lessons in geology along the way. I also got to see Laughlin, NV, (aka: the other Laughlin) for the first time. It was a nice flight, and nice to be clear of the weather. I climbed up to 11,500' MSL and enjoyed a slight tailwind.
Flagstaff felt like a somewhat abrupt change from craggy desert to wooded mountains. It was a pretty place, but it was also very gusty. I landed in about 25 kts of wind – a lot for the A5 at around 1,300 pounds, though well within its capabilities. (I still tied it securely to the ground before heading in to grab a snack and pay for my fuel.)
I was making pretty good time, and the forecasts said I'd have no problem getting to Santa Fe. I'd planned on stopping there for the night, but the forecasts through Colorado and north weren't as favorable. I decided I might have to press further than Santa Fe, but that I'd wait and see when I landed.
I fought some significant bumps on my way out of Flagstaff, but eventually found some smoother air. The skies stayed clear, and the terrain was still beautiful. I passed well north of Albuquerque's airspace, and had flashbacks of T-6 student cross country trips as I landed at KSAF. (Doug Jenkins should note that I did not pop a tire upon landing like he did last time he was here.) I got fuel and checked the weather in the FBO. When I went to pay, they tried to charge me an outrageous, multi-hundred-dollar, service fee. It took some sweet-talking with the manager, and mentioning that I know a lot of T-6 pilots who could be warned against coming back here before they agreed to waive my fee. (I don't pay landing fees at places where I buy fuel.)
The weather north of Denver hadn't gotten much better. I considered flying home to my parents' house near Fort Collins, but that would involve complications if I ended up having to leave the airplane there and come back later. I'd also had plenty of flying for the day, so I opted for Colorado Springs. It was getting late as I left Santa Fe. I'm familiar with the area, but didn't anticipate it getting dark so quickly. I bumped along the front range with the stars overhead thinking that I may actually have been better off staying in Santa Fe that night anyway. Hindsight, right?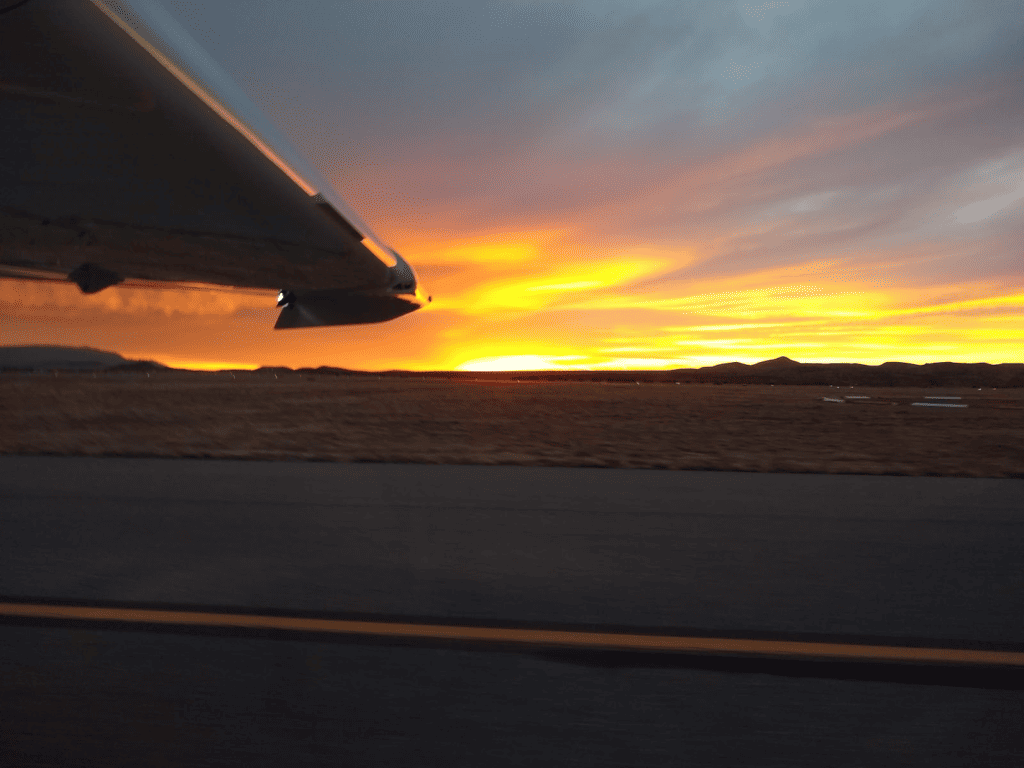 I made it to KCOS without any problems. The FBO tucked me in to a nice, heated hangar with some pretty cool neighbors. The line guy told me that these jets almost never fly, and that made me sad. If you have an entrepreneurial spirit and a desire to try out a serious side-hustle, you should definitely head out here and see if you can get the owner to let you start flying these things. They told me they're waiting for you!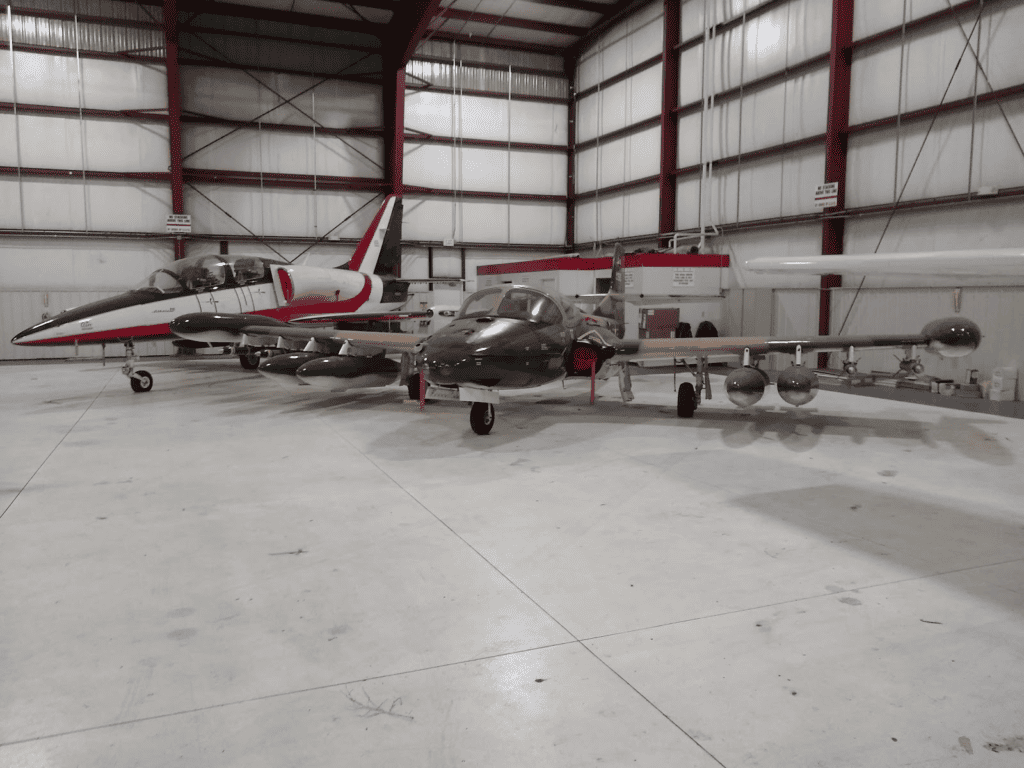 Day 4
Friday morning did not look good. The weather was IFR across most of Colorado and everything north. There were forecasts for things to improve though. I didn't need to be home until Sunday night, so I opted to wait around and see if things improved. I stayed at the hotel until they kicked me out, then went and eavesdropped on a C-130 crew's debrief in the FBO snack bar. (I miss some parts of military aviation, and I'm glad to be done with others.) It wasn't an exciting morning, but it was relaxing and I got some writing done.
Despite teasing me all day, the weather did not seem to be appreciably improving. Looking further ahead, things only got worse. There was a big red "L" headed my way, and forecasts calling for IFR and snow. I sent my customer an email saying, "Sorry, but I'm going to call it quits for this week."
I said goodbye to a couple of AFSOC MC-130s and an F-18 and flew up to Front Range Air and Space Port, the GA facility closest to Denver International.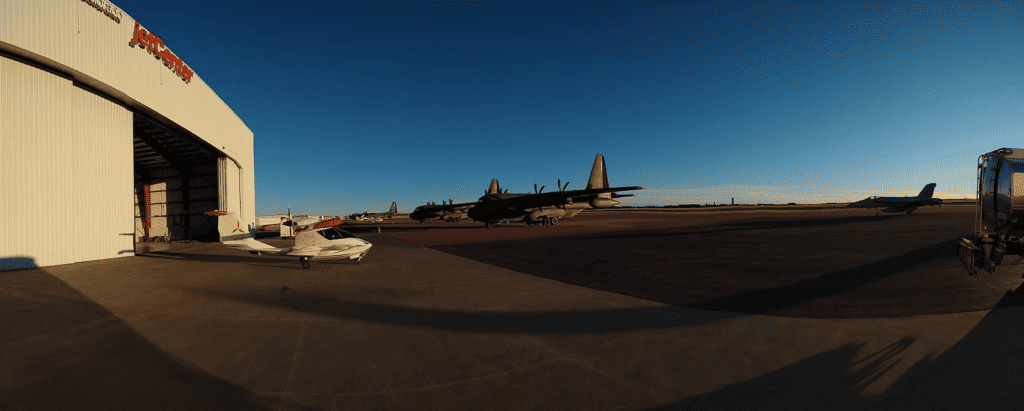 The FBO at Front Range was very friendly. I'd called ahead and when they asked me how big my airplane was, I mentioned that the wings can fold to make it roughly 10'x35'. They said, "Great, we'll give you our cheapest rate." I didn't argue, especially since it was going to be there for at least a week. Folding the wings on the A5 is trivially easy and it let me fit into another heated hangar that would have otherwise been too full. If you ever have the option of buying an airplane with folding wings, do it!
The FBO gave me a free ride to KDEN and I hopped on a quick flight home. Thankfully, my customer was very understanding about things. He wasn't planning on doing much flying in the Minnesota winter anyway.
Day 5
I ended up able to fly back out to Denver one week after I'd dropped the plane off. It was Saturday and I spent it with my family, including hosting my daughter's birthday party, then took the last flight out that night. (I did a cheap direct flight on Frontier, which was part of what prompted me to write this: https://community.thepilotnetwork.org/posts/a-new-frontier. The customer experience on Frontier is far from amazing, but I still contend that it's a fantastic career opportunity for the right pilot.) It was nice to be able to use this as a travel day without giving up much time with my family.
Day 6
The FBO from KFTG would have picked me up from my hotel, but I just took an Uber. I arrived as soon as they opened up, and it was easy to unfold the wings and do my preflight. The A5 is a nice, simple airplane and this factory-new example was in great shape. I snapped the picture at the top of this post before blasting off into a gorgeous, if crisp, Colorado morning. (Thankfully, the A5's heater is outstanding!)
Colorado stayed pretty clear, but Nebraska and South Dakota weren't quite as accommodating. I was able to stay safely VFR, but had to cruise under an ominous stratus layer that had blanketed the entire area with snow in the past day or two. I had to wear gloves when I stopped for fuel and actually gave conscious thought to the fact that I'd be landing on patchy snow with a bit of a crosswind at one of my stops.
Thankfully, the weather held overall and I made it all the way to Minneapolis. Not wanting to deal with approach control, I ducked under all the Class B airspace and just called Anoka tower when I got close. My owner heard me arrive on https://www.liveatc.net/and met me at his hangar. We shook hands while he, his wife, and their pup oohed, aahed, and barked over their new toy. It was cold and snowy, so we got it in the hangar right away.
I'd planned to stay the night, and a buddy had even offered me dinner and a place to sleep. However, I got in early enough that there was just enough time to catch the last flight out that night. My customer drove me to the airport himself, because he's a nice guy like that. (Go figure, the new A5 owner drives a Tesla Model S.) He thanked me profusely, and I dashed inside. Thanks to the Known Crewmember program, I got through the aircrew-only security line in about 30 seconds. (That program is one of the greatest perks of being an airline pilot.) I arrived home late that night, but overall I'd been gone less than 30 hours for this leg of the trip. I was home in time to take my kids to school the next morning, which made everyone very happy.
Perspective
This trip took me a total of six days, including two travel-only days and one day of mostly sitting around watching the weather. That's not the most efficient trip across the country, but it was an absolute blast. These pictures can't do justice to the beauty we pilots get to behold as we cruise around our planet. Although I enjoy the view from my A220 at FL390, there's something special about flying between 1,000' AGL and 11,500' MSL in the A5's spacious, panoramic cockpit.
I'd be hard-pressed to find a better way to spend a few hours than leveled off, trimmed up, listening to some great music or a podcast through my Clarity Aloft headset, using small, fingertip adjustments to keep my plane headed in the right direction.
This job didn't pay quite as well as Delta would have for that many days of work, but it wasn't bad either. (I probably made a little more over these six days than most CFIs earn with a month of hard work.) Truthfully, I'd have wanted to do this trip even if it paid nothing. In fact, it made me miss cross-country flying in my C-170A and I'm itching to do one now.
Getting paid was easy. I documented everything in one Excel spreadsheet, and used another to make up an official-looking invoice. (Another part of aligning my own stars is that I set up a company, Hydroplane Aerospace LLC, when I started flying with Icon. It doesn't offer much legal protection, but it made everything on this trip a legitimate business expense. More on those considerations in a future post.) My customer sent me a check without any drama and everyone was happy.
All told, I flew about 1,700 nm and logged 22.4 more hours in the A5. The trip wasn't entirely smooth sailing, but it was a whole lot of fun.
Having completed this trip, I decided that I should add "ferry pilot" to my resume. (I've also ferried a PC-12 from Hurlburt Field, FL, to Bagram, and a Global Express from Wichita, KS, to Kandahar.) In the world of side-hustles, this sets me up for more flying opportunities that promise to be different and potentially even more fun than just teaching stalls and falls in beat-up old Cessnas. (Not that there's anything wrong with that.) I feel like I could drum up some more business doing this if I bothered to look, though I haven't yet. It also happens that there are some big companies who will find work for you. I've heard that they're always looking for pilots. (Icon usually contracts with National Pilot Services to do aircraft deliveries.)
If you're an experienced military, corporate, or airline pilot, these kinds of flying jobs are just hanging around, ripe for your picking. They pay surprisingly well, and can be very enjoyable. Airline pilots especially have schedules that make fitting these trips in very easy.
If you're a young pilot working your way towards a big-time flying job, ferry pilot is an excellent option for getting paid to build time.
If you're interested in obtaining these opportunities, here are a few tips for getting started:
Make sure you're current on General Aviation. Jet pilots need to be comfortable with operating a piston engine, doing small airplane flight planning, flying VFR, etc. This isn't as daunting as you think. If you're non-current here, look around your company or your squadron for a GA pilot. Offer to pay his or her hourly rate to do some flying. (Note: this is not "I'll pay for gas." GA flying has many costs above and beyond just gas. You need to pay for the whole cost. It's worth it.) It will only take you a few hours to get comfortable. If you feel like you need more, go to a local FBO and get checked out in their C-172 or PA28 and do some lunch & backs with friends and family.
Make sure you have the ratings you need. You need at least a Commercial Pilot Certificate in the appropriate category and class to do ferry flying for pay. You need an Instrument Rating too. Even if the aircraft is VFR-only, the insurance company and owner will rest easier knowing you're qualified to handle things if you run into trouble. You'll have more credibility if you hold a CFI for that category and class of aircraft as well. Having other ratings won't hurt either. You don't need to be rated to fly seaplanes, gliders, or multi-engine aircraft to ferry SR22s; however, more ratings means a stronger resume.
Get aircraft-specific experience. Most insurance companies and aircraft owners want you to have at least some time in the make & model of aircraft they need you to fly. If you went flying with friends in #1 above, you may have already accomplished this. If you want time in something specific, look around the internet. There are many good pilot forums, and there are online clubs for owners of most types of aircraft. Join the club if you have to and ask for someone to take you flying. If you're a CFI, you can offer a BFR or IPC  in exchange for the hours. I promise someone will bite. This may not be necessary for many ferry pilot jobs, so don't be afraid to apply even with little experience in make & model.
Network. This is real-world networking, not "I'm a totally awesome person because I have 2,754 contacts on LinkedIn!" networking. Go meet people at your local airport. Call up NPS or another ferry company. If you're interested in flying a specific type of aircraft, join that owner's group and meet up with people in that community. I got my A5 ferry job because I met the owner, demonstrated my skill in and care for the A5, and showed that I cared about him as an individual. The more people that have experiences like this with you, the more opportunities you'll get.
Start out small. Don't pass up a small job just because it doesn't pay well or the aircraft isn't glamorous. You're not actually a ferry pilot until you've done a ferry flight. If that means you fly a run-out (but still safe) Piper Tomahawk for several hours in the dead of summer, that's what you do. Your best bet for getting better jobs is for that Tomahawk's owner to be thrilled with the way you took care of her airplane. You want to be able to refer people to her for a recommendation when you're looking for future work.
Don't get greedy. I contracted for my customer to pay me a daily rate for my work. I was well within my rights to charge him for my travel and sitting around days. However, I gave him a break on one of them because I felt bad about his plane being delayed a week. I also made sure to stay in reasonable hotels and not splurge on the airline tickets for which he reimbursed me. I recently flew with another A5 student who had just fired his professional jet pilot for habitually over-charging him. His dishonesty had made some extra money in the short-term, but had cost him an awesome job in the long run. (He'd been making amazing money to fly a Hawker 900 very part-time from his hometown.) Don't be afraid to ask for what you're due, but realize that you'll make more money in the long run by getting more jobs in the future than you will from squeezing every last penny out of one job today.
I could go on, but this is good for now. Feel free to hit me up if you want to talk about other ways to get into ferry pilot flying. This is just one of many opportunities out there for very fun part-time pilot work. Sure, you could spend another weekend on the couch watching TV or knocking out items on the honey-do list, but if you're making real money your spouse might not complain about you going on a nice cross-country flying trip instead. Don't limit yourself to a life of working in a glorified cubicle. Go out and enjoy the aviation that our world has to offer. I think you'll be able to find something you like. I sure have!
---
On a tangentially related note, if you like the idea of flying the A5 but don't want a side-hustle, Icon is looking for a full-time Chief Pilot in Tampa. It's a fun and challenging job that involves a lot of great A5 flying. I also see this job as having the potential for advancement within the company. Chief Pilot East is the perfect training program for overall Company Chief Pilot in the future. The right person for this job will be a strong leader – ideally someone with a standards background and experience leading a military flying unit. However, he or she also needs to be fluent in General Aviation. You can check out the job listing here: https://www.iconaircraft.com/company/careers/oU1A8fwn.
---
BogiDope is a proud sponsor of The Pilot Network, and this post is republished from their site with permission. You can read the original post here. You can also get more great TPN content on the TPN Community Website, on their free TPN-Go app (iPhone or Android), in their quarterly TPNQ magazine, and on their Podcast.