Lifetime has a show called Married at First Sight. I can't even bring myself to watch it–it just sounds like a bad idea. I categorize this with other shows like all the Real Housewives series under "Trainwrecks I Don't Watch." I can't imagine that Hired at First Sight would be any more successful for a Guard or Reserve unit.
For a UPT applicant hired at age 18, a career in the Guard or Reserves could potentially last longer than many marriages. For both these types of relationships, it's critical for all parties to spend time getting to know each other before committing to anything permanent. Rushing a Guard or Reserve unit is as close as it gets to dating, and it's something you need to plan on doing. Today we're going to discuss doing it successfully.
Table of Contents
What is Rushing a Unit?
The most simple way to describe rushing a unit is physically traveling to the squadron you're applying to in order to meet the people that could hire you. To use our analogy from earlier, rushing is like dating…it's a chance to get to know each other.
We use the term "rush" because the experience also resembles "rushing" a fraternity or a sorority. It's as much a try-out as it is an introduction. Your unit will expect you to do more than just passively hang out. They'll run you through a series of social events. They'll give you facility and aircraft tours. They probably won't put you through anything as crazy as you'd see in Animal House or an American Pie movie, but they may try to get you out of your comfort zone to try and see how you handle the situation. Certainly, if they invite you to help clean up the bar after Roll Call, you'd be well-served by enthusiastically accepting.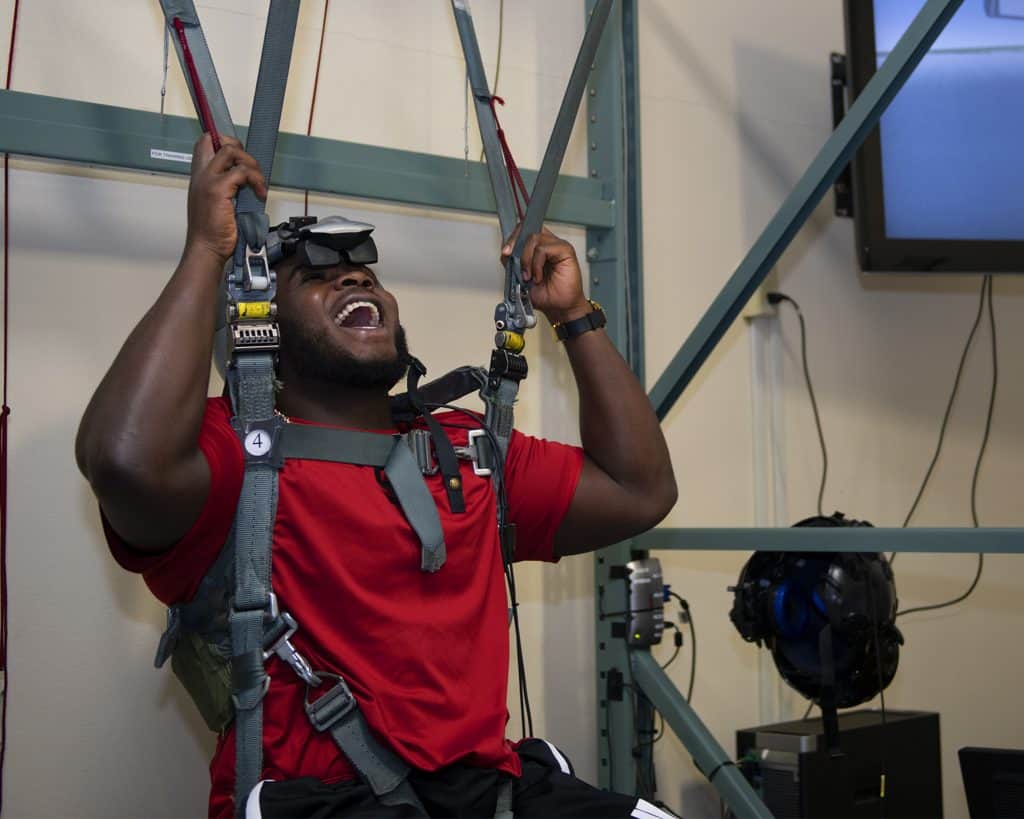 Rushing doesn't look the same at every unit. Some places don't want you to "rush" them in the colloquial sense of the word. For some, a single visit is good. For others, you'll end up forming a longer-term relationship before you even submit an application. We'll discuss these differences further as we go on.
What the Unit is Looking For
At the most basic level, the unit is trying to decide whether they want to work with you for the next several years, or even decades. "Working" includes day-to-day office work, flying combat missions, spending time together on TDYs or deployments, and hanging out together off-duty.
The most common time to rush a unit is on "drill weekend." This is the one (usually mandatory) weekend each month during which the unit gathers everyone together, conducts ground training events, and has social events. (There's usually some flying too.) Most units prefer you visit this weekend because it gives everyone in the unit a chance to meet you.
Although they have lots to do on drill weekend, they'll take the time to show you around their facilities. They'll show you their aircraft and they may let you fly their simulators (if they have any). We all do this because we like showing off our toys, but they'll be watching your responses. Do your eyes light up when you see the aircraft, or do you make comments about how other types of aircraft are better? Do you mention, during the course of casual conversation, how much and why you like the area? Or are you constantly talking about some other place you like better?
Your primary function this weekend is just to meet and talk with people. You don't have to act like you're trying to win a popularity contest, but you do need to seek out opportunities to engage with members of the unit whenever possible. After you leave, the unit's hiring board will ask everyone what they thought about you. You don't want anyone to note that you were a boring wallflower but being obnoxious is even worse. It's okay to be confrontational in a humorous or good-natured way, but you're not there to show anyone how smart you are. There is definitely never any excuse to actually be disrespectful or rude to anyone.
Ideally, you'll find people you know from past lives, or you'll meet people and realize that you have things in common. You want to leave at the end of the weekend with people in the unit thinking, "Wow, that person was pretty interesting. It'd be fun to hang out with him or her again."
If you're already in the military, and especially if you have a security clearance, you may be invited to attend some of their ground training events. Most of those events won't be exciting, but this is definitely the time to show that you're all ready to be part of the squadron. What's your demeanor like in these events? Are you paying attention to the briefers, or playing Candy Crush on your phone? (Assuming the briefing is unclassified, of course….)
What You're Looking For
Believe it or not, rushing a unit isn't all about them. Your unit very much wants you to get a feel for their culture and think hard about whether you'd enjoy being a part of their team. You're far better off graciously telling them "no thanks," than getting into a situation where none of you are happy.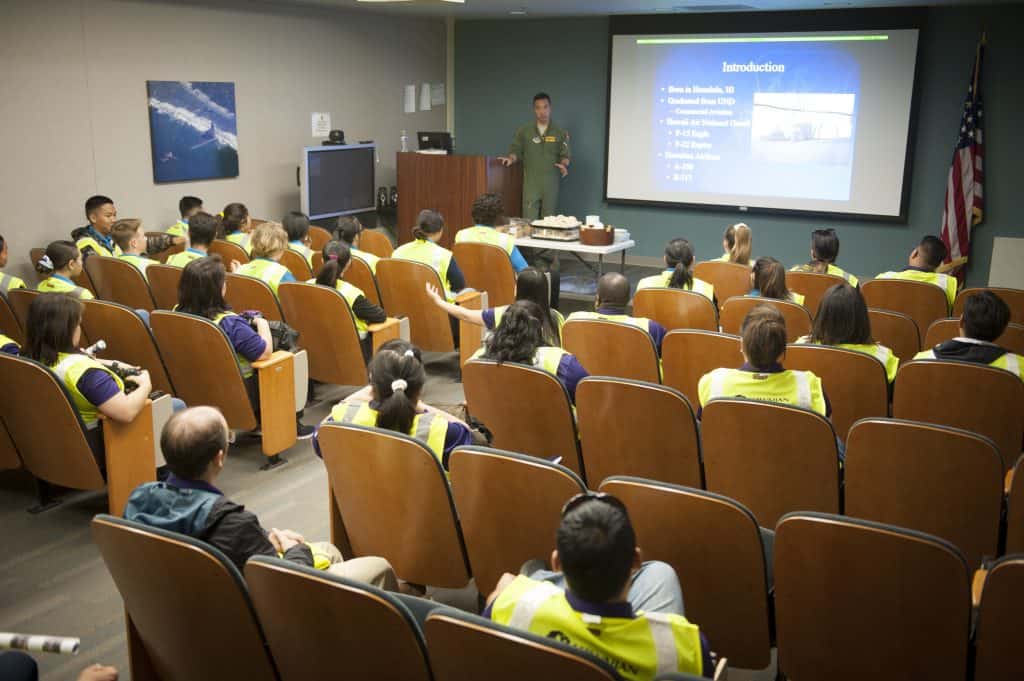 Some units hang out a lot. When my friend Hefty was helping me set up my article about the Wyoming ANG's 153rd AW, there was a week of delay because much of the wing was out hunting elk together. Isn't that awesome? If you enjoy hunting or doing anything else outdoors, I think you'd love working in the 153rd. On the other hand, my wife is a vegetarian. If she somehow joined that unit, she would miss out on opportunities to hang out when everyone else went hunting. That's not helpful for anyone, and she'd be far better finding this out before things got serious.
If you want to live somewhere that guarantees you'll be a commuter, you should look for a unit like the 96 FTS at Laughlin AFB, TX. Although there are some valiant stalwarts who live in the area, they realize that it's a tough sell to get people to move to Del Rio, TX, for a part-time reserve job. They're probably a little more open to commuters than other squadrons. (That said, I would love to be a part of the 96th. When they commute to work, they tend to spend the week hanging out together in large groups. They always seem to be having a good time…even in "Del Rio By The Sea.")
Some units are razor-focused on their mission and take things very seriously. If you show up for work at a place like this expecting a flying club, you will be absolutely miserable. In my experience, even the most focused units know how to have fun while accomplishing the mission, but you need to be able to dial things up high enough to match their intensity when the time comes.
Along the same lines, some units end up doing very little deploying while others expect their pilots to spend a lot of time on the road. I'm not saying that one is better than the other. Your particular needs and desires could make either of those a good option for you. However, you need to know which one you're dealing with before you sign up.
From this perspective, figuring out these aspects of a culture is the most important part of your visit. Throughout your conversations and observations on a visit to a squadron, be sure to watch for clues to all of this. You may find opportunities to ask direct questions, but it isn't always seen as polite to ask things like: "Do you guys have fun here, or is it just work all the time?"
Should I Rush at All?
Believe it or not, the answer here isn't always a "Yes." Although it's very common for units to want applicants to stop by, some don't. When I asked my friend Pone if people should rush his Navy Reserve pilot training squadron, his response was a pretty bland, "Um, no not really." It's not that they don't want to meet people, it's just that their community is small enough they assume they'll know most of the competitive applicants. That doesn't mean you can't apply to that community if you don't already have ties, but you're definitely going to have to get creative about how you approach it.
For a unit like this, your best bet is to have some association with that community in the past. Maybe you served in an Active Duty squadron on that base and know some of their pilots. Maybe you did an enlisted job that allowed you to interact with them. If you don't have any direct connections to a given community, your next step is to sift through your own personal network to find someone who does have a connection. He or she may be able to introduce you. In some situations, that introduction will be enough for them to give your application serious consideration. In others, it may be enough to have them invite you for a visit less formal than the average rushing experience.
That said, I think the vast majority of Guard and Reserve units, will want you to visit. Standard Operating Procedure seems to be that you'll be invited out for a drill weekend.
Few units do hiring boards as frequently as every quarter. Most seem to do 1-2 hiring boards per year. In general, they'll include in their hiring announcement on which drill weekends they prefer to have you stop by. It's usually easier and more efficient for them to have as many applicants visit at the same time as possible. If you can make one of those specific dates, you should.
Even if they designate specific dates for applicants to rush them, most units are more than happy for you to stop by on other drill weekends, or on other days altogether. If you're playing the long game with a favorite unit, you may end up visiting them more than once. The key here is coordination, which leads us to the next section.
Coordination
One of the keys to successfully rushing a unit is communication. First, you need to thoroughly read the unit's hiring announcement. If you call up and ask questions they've already answered, you're just being lazy and that's already a mark against you.
Along the same lines, if the hiring announcement includes instructions, follow them! If the instructions say, "Plan to attend drill with us on the first weekend of either November or December," you probably don't want to call up and ask to attend their October drill weekend unless you have a damn good reason. If you want to just do an extra visit, then your call will sound like this, "I'm hoping to visit on your November drill weekend, but I'll be in the area in October. Would it be okay if I stopped by for a few minutes to introduce myself and drop off a paper copy of my application?"
Unfortunately, rushing a unit isn't always part of the formal process and their published application instructions may not be clear on their expectations here. If you know someone in the unit, this is definitely the time to call and get their take on how to rush the unit.
Don't worry if you're a UPT applicant who doesn't know anyone at the squadron. It's perfectly acceptable to call the squadron hiring POC (point of contact) and ask about visiting the unit. (If you don't already have that number, look through any current job announcement details or the MilRecruiter Map for POCs from expired job announcements.) If you can't find a number for a hiring POC, it's also acceptable to just call the squadron's main phone number and ask to speak to any pilot/crew member to ask about scheduling a visit. We pilots aren't known for our humility, and it's always a little flattering when someone wants to visit our squadron. The person you get on the phone may hand you off to someone in charge of coordinating this sort of thing, but you'll usually get a friendly response.
Someone already in the military may be able to just walk into the squadron, especially if you're familiar with the unit and its people. However, a UPT applicant should definitely not show up without prior coordination. When I interviewed Donny from the 153 AW, he said he's always happy to have people visit. He'll even arrange someone to show you around if he's on the road. He's made things work when people showed up at the gate unannounced, but he prefers you give him more notice than this. (More because he wants the experience to be an effective introduction for you than because you're being a huge pain in his you-know-what by unexpectedly showing up.)
If you can't get in contact with any squadron aviators directly, the base officer recruiter is your next best bet.  When you're coordinating with a unit's recruiting office, be careful using the term "rush." Some units are upfront about what's happening, but many would rather you talk in terms of "introducing yourself" or "stopping by to meet some people in the squadron." Is this silly? Yes. Welcome to the game.
At The Unit
So, you've coordinated a visit and you're getting ready to go. What types of clothing do you need to pack?
See why I told you to call ahead?
If you're in the military and they tell you to wear your uniform, make sure you have all the pieces and that it looks good. As with any job interview, if you're coming from out of town then plan to arrive early the day before (at the latest) so you have time to iron uniforms and relax.
If you don't have a uniform, or they said not to wear one, I recommend defaulting to business casual. It's tough to go wrong with khakis and a collared shirt. However, some units might have different cultures and other attire may be appropriate. (Again…communication!)
Show up on time, or just a few minutes early. Bring your phone because you're going to want to trade contact info with people. However, it needs to be on silent and you don't take calls unless you have a pregnant wife at home.
As we mentioned, you're here to meet the people and get a feel for the culture. Don't be an obnoxious pinger who butts in on every conversation, but take advantage of opportunities to talk to people. If you're at a social gathering (to include hanging around between briefings on a training day) and you see a member of the unit standing alone, walk up and introduce yourself.
Personally, I'm terrible at talking to people, which is part of the reason I don't like doing it. My secret is to always start by trying to get people to talk about themselves. If I were rushing a unit, I'd ask things like:
What part of town do you live in (or do you commute)?

Do you have kids? What schools do they go to? What do you think of those schools?

How long have you been in the unit?

What's your military background?

What do you like about the unit?
In most cases, if I can get a person to start talking about himself or herself with questions like this I can find some common ground and it's a lot easier to have a natural conversation.
If you attend a planned event with other applicants there will be tours, briefings, and social gatherings. You don't have to gush over everything you see, but hopefully you're applying to a unit with aircraft that interest you. If I were giving a tour, I might think it strange if the applicants didn't at least ask to take pictures of the jets.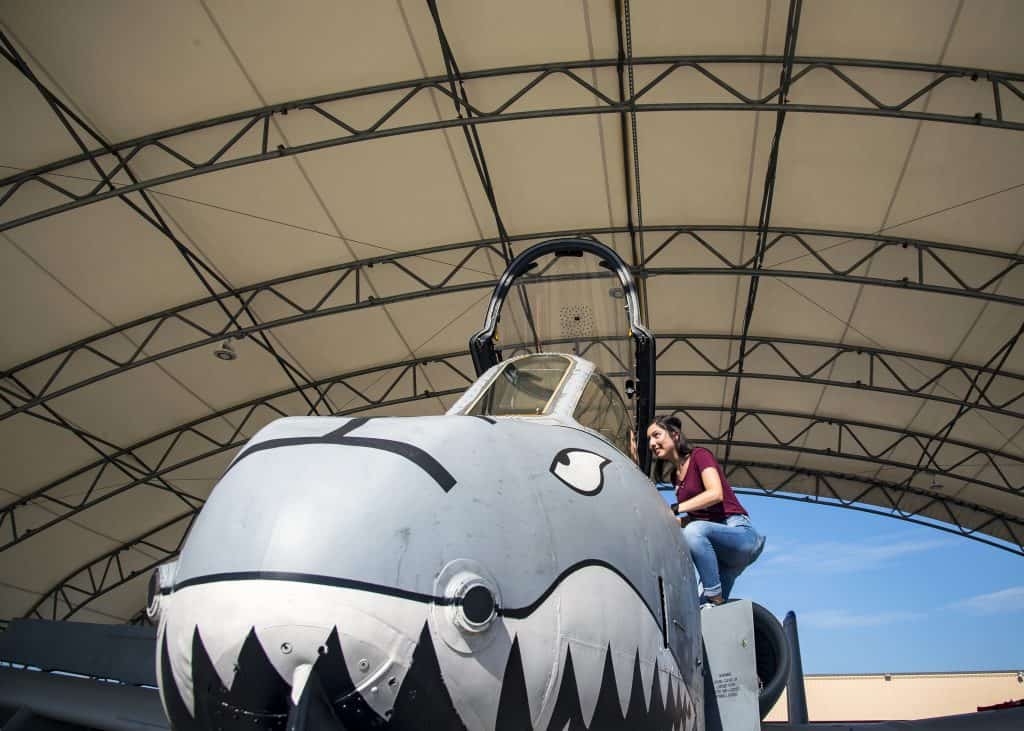 Any briefers or presenters will ask if you have questions. It's always a little awkward when nobody has anything, so I like to come prepared with one or two. Don't ask stupid things, or questions that are easily answered on an existing website. Also, don't ask overly technical airframe-specific questions. Try to ask something that shows you've put some thought into how you'll fit in the unit and that you actually care about them, their mission, and their community.
At social events, it's okay to joke around if you're that type of person. Don't try to be funny if that's not you though…it'll be obvious. Be careful about the jokes you tell. Many of these will be family events, and you never know who has a spouse with unique political or religious leanings or a kid in a special situation.
If you're lucky, you may get invited to attend Roll Call. Winning at Roll Call may get it's own post someday, but here are the basics: Roll Call is a fun event where very little there is sacred, apart from the Squadron's honor and traditions. Since you're a visitor, the squadron will have some laughs at your expense. Expect it, smile when it happens, and play along. There won't be any written rules (and if there are, don't get caught reading them!) but try to pay attention to any instructions you're given and pay close attention to the behavior of those who know what they're doing.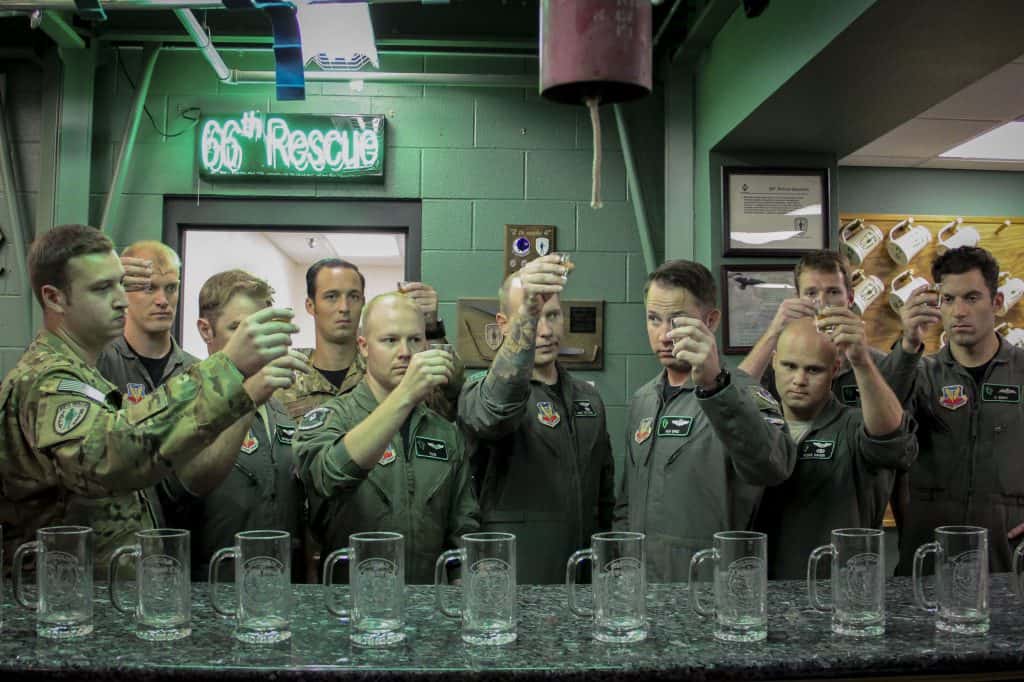 If you don't drink, let the people in charge know early so they can prepare you shots of something non-alcoholic and far worse than Jeremiah Weed to throw back as part of the festivities. If you plan to imbibe, do not, under any circumstances, plan to drive home. You should expect to consume a fair amount of alcohol during the event. Try your best not to overdo it, but get a ride back home or to your hotel no matter what.  Simply put, your chances of being hired anywhere are incredibly low if you have a DUI on your record.  It's not worth it…ever.
In the past, one of your most important goals when rushing a squadron would have been to present several bottles of expensive liquor to your hosts, especially if you got to attend Roll Call. The Air Force has acquired some mixed feelings both about alcohol and about these types of gifts. Be sure to ask any contacts in the squadron before you plan to bring any gifts. If a gift is deemed acceptable, don't go crazy or it'll look like you're trying to buy your way in. Find something nice, but simple. If you're visiting from out of town, bring something from home that they can't find locally. If you're local, pick something unique from your favorite spot.
If your visit kicks off in the morning, especially during a drill weekend, bringing coffee and/or donuts is a nice gift in place of alcohol. No matter what you bring, write a simple note on it to identify yourself thank them for the opportunity. "Thanks for the hospitality! – John Doe", written in black or silver sharpie directly on the bottle/coffee/box of donuts works just fine.  Feel free to get creative, but don't lose sleep over it.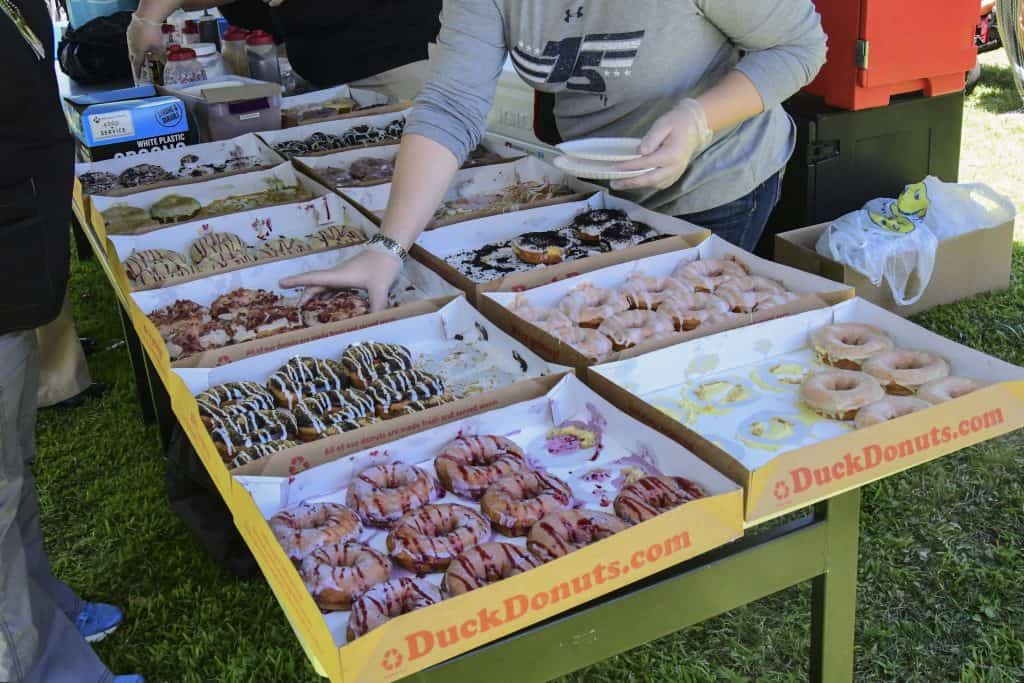 If you know a lot of people in the unit, you should feel free to stick around and hang out with them for a little while. If people you know are going out after squadron's official events end, accept an invitation to tag along. However, if you don't already have any friends there, be sure to leave once things are over. In that case, the time to go will probably be obvious. If there's a group of applicants, there will probably be a semi-structured, "Thanks for being here, see you later." That's a signal that the people in your unit either want to go home themselves, or they want to spend some time sitting around talking about you. In either case, leave and start working on your thank-you notes.
The Long Game
Rushing a unit is never as simple as you going for a quick visit. At the very least, you need to send a thank-you note to any unit that lets you visit and/or interview. Hand-written is good unless your writing makes you look like a serial killer, in which case a typed note or email might be better.
You should also try to remember the names of as many people as possible. Hopefully, you'll also have some good conversations and develop some rapport with at least a few individuals. It's not a bad idea to remember some details about the individuals and conversations. (You won't get much free time to yourself, but when you can you may want to jot a quick couple notes in your phone to help you remember.)
These names and details will come in handy in your thank you note, cover letter, and/or interview. Imagine if instead of: "Hello. My name is Joe. I want to be a pilot," Your cover letter can say, "After speaking with Maverick, Goose, and Iceman about your squadron's mission and culture, I'm more motivated than ever before to join the Fighting Flamingos!" Your squadron hiring POC loves to see cover letters like this because it gives him or her an excuse to get up from the desk, walk across the squadron, and chat with his or her buddies…about you. We're assuming you chose to drop those names because you really built up some good rapport during your visit. If that's the case, Mav, Goose, and Ice will remember you and they'll support the idea of you joining their team, even if your application doesn't arrive until weeks or even months after rushing.
If you're seriously interested in a unit, it's also a good idea to keep up contact before and after a visit. Don't be the obnoxious stalker who calls all the time, but don't disappear either. If you haven't interviewed or visited on a drill weekend yet, it's probably okay to stop by for a visit. Coordinate your arrival so there's someone to show you around. Offer to take your host out to lunch, or if there are a bunch of people hanging around that day, try to arrange a group lunch push. There's no better way to show your ties to the local area than knowing "this great place just down the road." (You should not offer to pay for everyone in this case. That's going overboard.)
If you're an Active Duty pilot on leave, it's definitely okay to call and stop in because you have a limited window to be able to visit. (This excuse works even better if you're on leave from overseas, because you don't get back to the States very often.)
If you met people in the squadron and found common interests, it wouldn't be a bad idea to hang out socially outside the squadron as well. In an ideal world, this is exactly what will happen after the unit hires you anyway, right?
I've spoken to more than one squadron recruiting officer who said that not getting hired one year isn't the end of the world.  In fact, it's pretty common. If you didn't get hired, be sure to tactfully ask for feedback on your application. If you can get one individual to provide the bulk of that feedback, make him or her your unofficial mentor. Take the advice you get seriously and work to fix any deficiencies. After you've accomplished something meaningful, check back in with your mentor and let him or her know.
If you show up at your interview next year and surprise them by having implemented all their advice, you will make the hiring board very happy. However, if they already know what you're going to tell them because you've kept your mentor in the squadron up to date, you'll be even better off.
Throughout this process, realize that you're not just applying for a job. You don't want this to be Hired at First Sight. You're trying to form a very long-term relationship. Let this mindset guide all your interactions with your unit and you can't go wrong.
Photo Credits:
The featured image for this post is a HI ANG F-22 pilot giving a tour on Maui. (Some Air National Guard jobs offer better locations and aircraft than others.) https://www.dvidshub.net/image/5640005/hiang-conducts-public-viewing-f-22-raptors-maui-aug-2
The 199 FS briefing photo is from: https://www.dvidshub.net/image/5174996/high-school-explorers-tour-199th-fs
The picture of Atlanta Falcons defensive tackle Grady Jarrett in the parachute egress trainer at Luke AFB, AZ, was taken by A1C Leala Marquez. https://www.dvidshub.net/image/5823656/atlanta-falcons-visit-luke
The A-10C tour photo was taken by A1C Eugene Oliver at Moody AFB, GA. https://www.dvidshub.net/image/5702509/flying-tiger-spouses-tour-23d-amxs
The shot of the 66 RQS members toasting the fallen from Jolly 38 and Jolly 39 is a courtesy photo from https://www.dvidshub.net/image/4743469/66-rqs-remembers-fallen-airmen-20-years-later.
The donuts are from a Navy family event in Portsmouth, but it gets the point across. https://www.dvidshub.net/image/5503973/nmcps-annual-command-picnic