Certified Flight Instructor
Hiring POC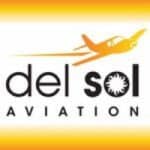 Website Del Sol Aviation
About the job
Fast growing flight school in Albuquerque looking for Full Time Flight Instructors for part 61 School. Must have a passion for working toward the success of future pilots. Del Sol Aviation offers a dynamic work environment for those who love to fly and build some time. Being located in the southwest, we have nearly perfect VFR weather year round that will minimize down time and guaranteed job interviews and pathway programs with airline partners.
Essential Job Functions:
– Contact, meet and interact with new student pilots.
– Conduct tours of our facilities.
– Train students in ground school and flight environments.
– Responsible for maintaining all appropriate student records (FAA & Company records)
– Provide recurrent and proficiency training to current pilots in the community.
Required skills:
– Be able to read, write and understand English language.
-Maintain an FAA class 1,2,or 3 medical certificate.
– Minimum of a high school diploma.
-Have a minimum of 150 hours logged flight time in airplanes.
-Minimum of fifty hours in Cessna 172 .
– Minimum of 75 hours logged as Pilot in command.
– Be able to pass a drug and alcohol test as required by law.
Hiring POC: Kyle Preston
Hiring POC Phone: +1 505-242-2701