Hiring POC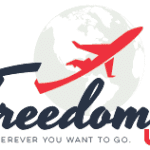 Website Freedom Jets
Job Description:
The First Officer works in concert with the Captain to assure the safety of the crew members, any baggage or cargo, and the aircraft. Responsibilities include pre- and post-flight inspections, flight preparation and planning, passenger briefing, and record keeping. The First Officer performs any duties delegated by the Captain and exercises the authority of the Captain, when delegated, to perform required tasks.
Position Level: Reports to the Captain and the Chief Pilot
Working Conditions:
Flight crew works 12 days on, 8 days off.
Aircraft are flown under Part 91 and Part 135.
Flight crew are subject to participation in a Drug and Alcohol Misuse Prevention Program.
Flight crew members manage their own airline and hotel reservations, allowing employees to accumulate their own loyalty points/miles.
Freedom Jets embodies a safety driven culture that features ISBAO Stage I, Safety Management System (SMS) and maintains the ARGUS Gold Safety Rating.
Compensation:
Freedom Jets offers employee-paid health insurance, plus company sponsored dental and vision plans and a group IRA with company match.
Job Requirements:
Valid FAA Commercial Pilot Certification
Valid FAA Medical Certificate
Experience in jet aircraft
Strong customer service skills
Sound judgement in matters concerning the safety of the aircraft and passengers
Must be authorized to work in the United States
Crew must live, or relocate to, within a two hour callout of KBAZ.
Hiring POC: Kristine-Marie
Hiring POC Phone: +1 830-387-2870