Gulfstream 550 First Officer
Hiring POC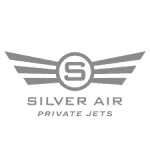 Website Silver Air
Job Description:
We are searching for an experienced first officer to join our Gulfstream 550 Fleet at Silver Air!  The Gulfstream 550 First Officer will be responsible for the safe operation of the aircraft and ensure all flights are conducted safely and prudently. If you are a team player who seeks excellence in every aspect of your performance and wants to join a hardworking team that strives to meet the travel needs of our clients, this might be the perfect role for you!
What you'll be doing:
Reviewing the maintenance status of the aircraft to ensure airworthiness.
Conducting proper pre-flight inspection under the approved Aircraft Flight Manual.
Completing check of weather and facilities along the route to be flown and airports to be used, including alternate airports.
Ensuring the flight is conducted by the policies and procedures of Silver Air and applicable Federal Aviation Regulations.
Ensuring the safety of all passengers, aircraft, and crew.
Accurately completing all trip paperwork following Silver Air procedures.
Job Requirements:
Total time in all aircraft = 1500 hours.
Multi-engine time = 1000 hours.
Total Turbine time = 500 hours preferred.
Valid First Class Medical Certificate. This is required.
Previous Part 135 experience. This is preferred but not required.
CANPASS authorization. You'll need the ability to obtain and maintain CANPASS clearance for unrestricted travel to/from Canada as a commercial pilot.
Strong customer service skills. Excellent communication skills (verbal and written) will need to be demonstrated with all levels of employees and clients. Communication must always be delivered with a superior level of professionalism.
High level of detail. You'll need to be highly organized with the ability to thrive in changing environments and the flexibility for frequently changing priorities.
Excellent time management skills. You'll need to be able to work on an on-call basis, working well under pressure and multi-task. Silver Air is a 24/7 organization, so this role requires a flexible schedule, including nights, weekends, and Holidays.
Strong people skills. You'll need to be a team player who can provide valued contributions to our business and clients.
Benefits 
We care deeply about making Silver Air an incredible place to work. We invest a significant amount of time and energy into creating and maintaining a company culture that provides our team with generous support while inspiring them to do their best work.  The specific benefits/perks we offer are continually evolving but currently include: 10 hard days off a month. Our Lead Captains work with their crew to set their own schedules each month ensuring optimized time off!
No floating fleets. Three pilots are assigned to one specific tail number and aircraft type.
Fully paid for Health Insurance coverage for you and your family
Generous personal development and employee assistance programs
Top-of-the-line equipment (iPads, Foreflight, Jepp charts, etc.)
KCM, Paid Medicals, Extra passports, Cell phone stipend
Competitive salary with regular pay review
Hiring POC Phone: +1 800-889-5840