Hiring POC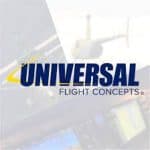 Website Universal Flight Concepts
Job Description:
Universal Flight Concepts is proud to offer those with a passion for teaching and a driving commitment to a student's success, the opportunity to join our team of professional aviation educators.
 
As a Certified Flight Instructor, teaching from FAA Part 61 and 141 standardized curricula, you will be an integral part of our Flight Training Team, providing instruction in technologically-advanced CESSNA 172 NAVIII, TECNAM P2008 and P2010 single and P2006T multi-engine fleet of aircraft, to include aircraft matching Simulators. Our company administrative system features a one of a kind instructor/student online tracking system that provides the ability to manage your students' progress systematically and includes user-friendly course trackers.
 
Enjoy industry leading pay and the benefit of having opportunities for long-term career advancement alongside an experienced aviation management team that places the student's development and interests first, while placing special emphasis on the student and instructor's safety.
 
If you have a Certified Flight Instructor certificate or you are working on getting yours soon, apply now!
 
Discover What Separates Universal Flight Concepts from Any Other Flight Training School:
Our Commitment: Your Safety and Success in Aviation!
Our company President has been developing aviators for nearly 4 decades 
Zero Turnover in Management Staff and Chief Pilots
First class and state of the art facilities located at Waco Regional Airport (KACT); Provo Municipal Airport (KPVU); Prescott Regional Airport (KPRC); and Scottsdale Airport (KSDL)
Brand new modern technology-advanced fleet of aircraft
In-house experienced maintenance staff, available 24-7
Flight Instructor Mentorship, Continued Education Program, and Leadership Development
Opportunity for long-term career advancement
Discount on aircraft rentals for personal use
Uniforms provided at no cost
Leading industry starting wages with additional compensation based on hours and experience
CFI's are the foundation of the aviation industry. We believe they should be treated with respect and as the professionals they are. We believe that if a person loves to teach and loves to fly, they should be able to earn a wage commensurate with their efforts and abilities. We believe that flight instructors can, and must do more than just build hours; they must continue the Universal tradition of inspiring the next generation of aviators. 
Job Requirements:
Currently accepting applications from qualified individuals for CFI, CFI-I, and MEI from forthcoming certified instructors thru experienced instructors.
 
 
Our team is looking for individuals who possess the following qualities:
Has a passion for learning and teaching others
Takes initiative, is goal oriented, and has a thorough attention to detail
Good organization and communication skills and excellent time management
Team oriented with an obligation for standardization and excellence
Applicants should have a Certified Flight Instructor Certificate or be within 6 months of receiving their Certified Flight Instructor Certificate to apply.
Hiring POC: pamela.ballew@universalheli.com
Hiring POC Phone: +1 254-300-5686