Where is the Air Force Academy Located?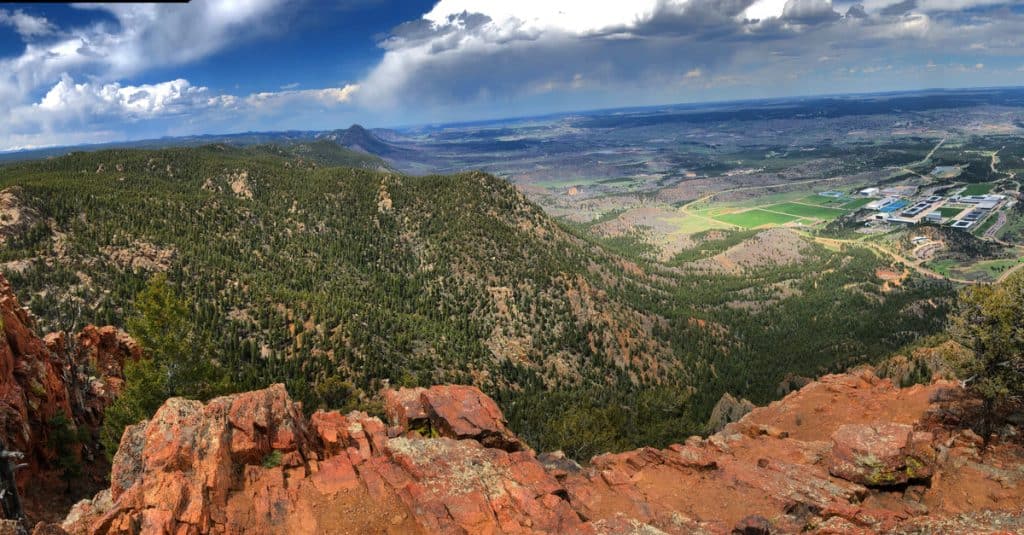 The US Air Force Academy, located in Colorado Springs, is one of the nation's most prestigious universities. Graduates have gone on from the school to climb the Air Force ranks, as well as become influential leaders in civilian fields.
The sprawling campus is also one of the most beautiful in the country. Located at the foothills of the Rocky Mountains, Colorado Springs offers a myriad of recreation opportunities.
Here's a look at the academy, the surrounding area, and the various US Air Force Academy requirements you'll want to look at if you're a high schooler considering applying.
What is the Air Force Academy?
The US Air Force Academy is one of the United States' premier institutions of higher-learning. It's the official military academy for officer cadets for both the US Air Force and the US Space Force. While it is the youngest of the five service academies in the country, the Air Force Academy is third in seniority.
The first class graduated from the academy in 1959. Grads receive a Bachelor's of Science degree and are commissioned as second lieutenants in the Air Force or Space Force.
Getting into the academy is competitive. Nominations are divided by congressional district, with each class made up of about 1,200 cadets.
The Air Force's core values are championed throughout the academy in all of the pillars of excellence–academics, military training, character development and athletics. The core values are "Integrity First, Service Before Self and Excellence in All We Do."
As an academic institution, the Air Force Academy is markedly different than other colleges and universities you'll find. Cadet life combines a broad range of academic disciplines with military training, leadership development and athletics. Classroom focuses include critical thinking and communication skills, engineering and science and ethics and respect.
Graduates from the academy may choose to make the Air Force their careers, where they'll surely climb the ranks quickly. After their military commitment, cadets who have gone into civilian fields have become NASA astronauts, pilots, politicians and engineers.
Where is Air Force Academy?
The academy is located in Colorado Springs, a town of about 500,000 people situated in the Front Range of the Rocky Mountains. The city is large by Colorado standards, second only to Denver. And, like Denver, this mountain town sits a little over a mile high.
The city routinely pops up on "best of" lists, including the best places to live and top trending destinations. But it's the defense industry that makes up the largest part of Colorado Springs' economy. Besides the Air Force Academy, Paterson and Schriever Air Forces Bases are in the same county, along with Cheyenne Mountain and NORAD. Northrop Grumman, Boeing, General Dynamics and Lockheed Martin all also have facilities in the area.
Like much of Colorado, the Colorado Springs area is a destination unto itself for outdoor enthusiasts. Sunshine prevails every month of the year, and the community is surrounded by beautiful hiking, climbing, skiing and biking opportunities. Pikes Peak, one of America's tallest mountains at 14,115 feet, lies just 12 miles west of town.
The city is also full of green spaces. More than 9,000 acres of parks are under the city's control, including almost 300 miles of park and urban trails.
Team sports are big in Colorado Springs as well, which is no surprise considering the Air Force Academy Falcons football, basketball and hockey teams are in Division I of the NCAA.
The Air Force Academy is located in a suburban setting just outside of town. The campus is an impressive 18,500 acres. A strict and busy schedule keeps most cadets on-campus during the week, but there are plenty of activities to enjoy there, too.
Air Force Academy Chapel and Other Unique Facilities
The Air Force Academy campus is one of the city's primary tourist attractions–more than one million people visit every year. Visitors stop by for many reasons. The internationally-renowned architecture of the distinctive Cadet Chapel is a big draw. Many visitors also enjoy the more than 23 miles of multi-use trails on Academy property or come to see the excitement of a Falcons football game. There is even a planetarium on the property.
Visitors arrive at the Barry Goldwater Visitor Center. This 35,000 square-foot facility gives visitors an idea of the history of the Air Force and the daily life of a cadet. Falcon's Stadium, the Eisenhower Golf Club and Davis Airfield are other major campus landmarks.
How To Get Into The Air Force Academy After High School
The academy is a top-tier university with a competitive admissions process. In 2019, of the 10,354 students that applied to the academy, only 11 percent were accepted. That level of competition puts the academy on-par with Johns Hopkins, Cornell and Rice Universities. The Air Force encourages applicants to apply to other colleges with Air Force ROTC programs.
To be selected for admission, cadets must meet high academic, physical, character and medical standards. In the classroom, cadets are challenged every day. So they pick students with academic records that show exceptional GPAs, test results and class rank. Physically, cadets are challenged in campus sports or Basic Cadet Training (BCT). The Candidate Fitness Assessment (CFA) tests strength, agility, speed and endurance.
A majority of the students selected graduated in the top ten percent of their high school classes. The average GPA for admission in 2019 was 3.78 and the average SAT scores were between 1230 and 1430.
A large part of the academy's mission revolves around moral character and creating the leaders of tomorrow. A qualitative review of an individual's character is part of the application process. This is formulated from your references, extracurricular activities and community service during high school, and various evaluations and writing samples. These requirements, which are above and beyond what you'll find at most universities, make your portfolio of extracurricular activities critical.
Finally, maintaining a healthy body is vital to the process as well. There are specific medical and weight standards required for commission. These must be maintained throughout your time at the academy.
Athletics are an integral part of Air Force Academy cadet-life. For the admission process, participation in high school sports shows a level of physical fitness and commitment to the community. But a desire to participate in athletics during college is also important since it is an integral part of cadet life.
Besides eyesight, hearing, height and weight limits, the academy also limits tattoos, brands, and body piercings. If your goal is to fly or work in special operational duty career fields, you will need to pass stricter medical requirements during your second year as a cadet.
Applying To The Air Force Academy
Looking to become a cadet? High school students will want to start the process early. It's recommended to meet with an Admissions Liaison Officer to get detailed information about the US Air Force Academy requirements.
As outlined on the academy's website, you should begin your application during your junior year of high school. The first steps are to complete a pre-candidate questionnaire and request a nomination from your state's congressional representatives. You must submit the questionnaire no later than December 31 of your senior year.
If you want to have a peek at what cadet life is all about, there's a summer program to give you a taste. Summer Seminar is a program just for high school students who are between junior and senior years. Attendance in the seminar is not required for admission, but it's an excellent way to get excited about your future at the Air Force Academy.
Selected candidates will receive instructions on how to proceed with their Air Force Academy application. Among the many tasks you'll have to complete, you'll need to submit your official high school transcripts and extracurricular activities record. You'll also submit the required essays and get three teacher evaluations. Finally, you'll do your fitness and medical assessments, secure your nomination from your congressperson and complete an admissions interview.
Conclusion
If the idea of joining the Air Force Academy ranks interests you, there's no better time to start the process. Take a trip to Colorado Springs and consider joining the Summer Seminar program to get a taste before completing your Air Force Academy application. If you want real, credible assistance with the application process from someone who has "been there and done that," sign up for BogiDope's AFA Admissions E-Course and set the conditions for your own success.