There are nearly 200 Guard/Reserve flying squadrons, and each one handles the hiring process differently. They advertise openings in different ways, at different times, and with different requirements. Tracking the different application deadlines can be one of the most frustrating and time-consuming parts of this process, and is actually one of the reasons BogiDope was initially created. So, let's break down some of the best practices for ensuring you never miss an application deadline:
How Do Squadrons Advertise Openings?
There are typically four different ways squadrons will advertise open pilot positions:
On their Wing website
On 3rd Party sites like BogiDope's Job Board page
On their Wing's social media account
Word of mouth/E-mail list
1. Wing Website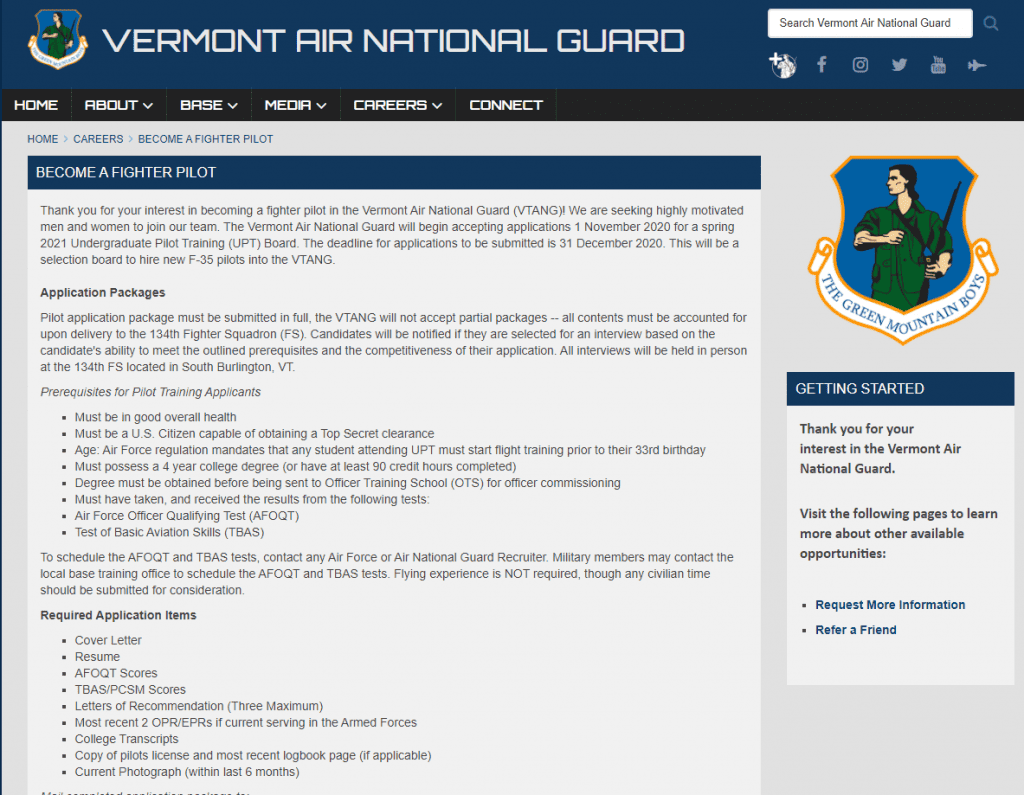 If you type in the Wing identifier into Google, one of the first things that will pop up on your search results will be the official Wing website.

Often the recruiters at those bases will post job openings and detailed directions for how to submit an application under the Careers tab. Some units are great at posting information, while others won't post anything. It really depends on the recruitment and public affairs team at that particular base.
2. Third Party Sites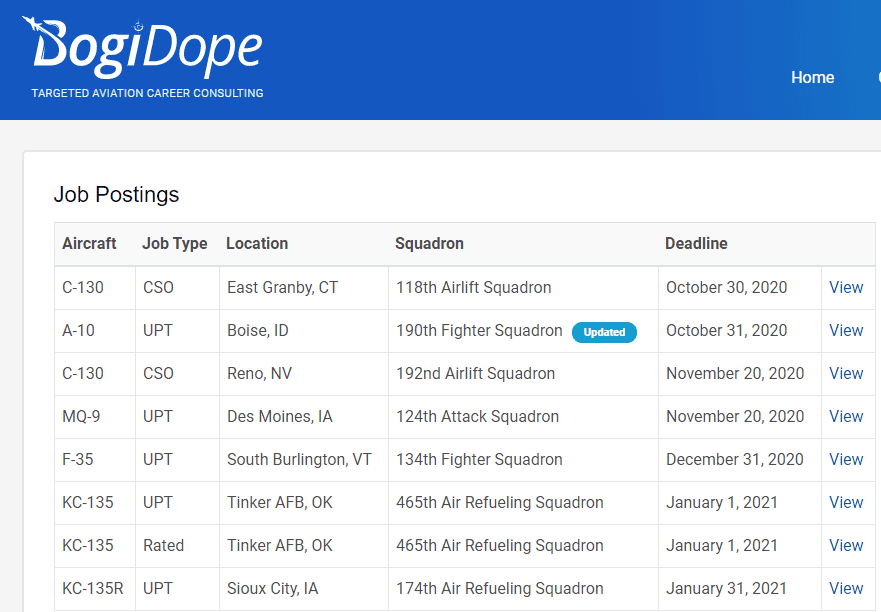 BogiDope's Job Board consolidates all of the known application deadlines in the Guard/Reserve. We will also send out an email notification to our entire email list every time a new job announcement is posted or updated. This is not an all-inclusive list because some don't post online announcements, and if we don't know about them, they won't make it on our site.


So, although this is a great place to start, if you are interested in specific units that aren't currently advertising an opening on BogiDope or any other 3rd party site, it's worth it to reach out to that unit to ensure you are aware of when the next board will be.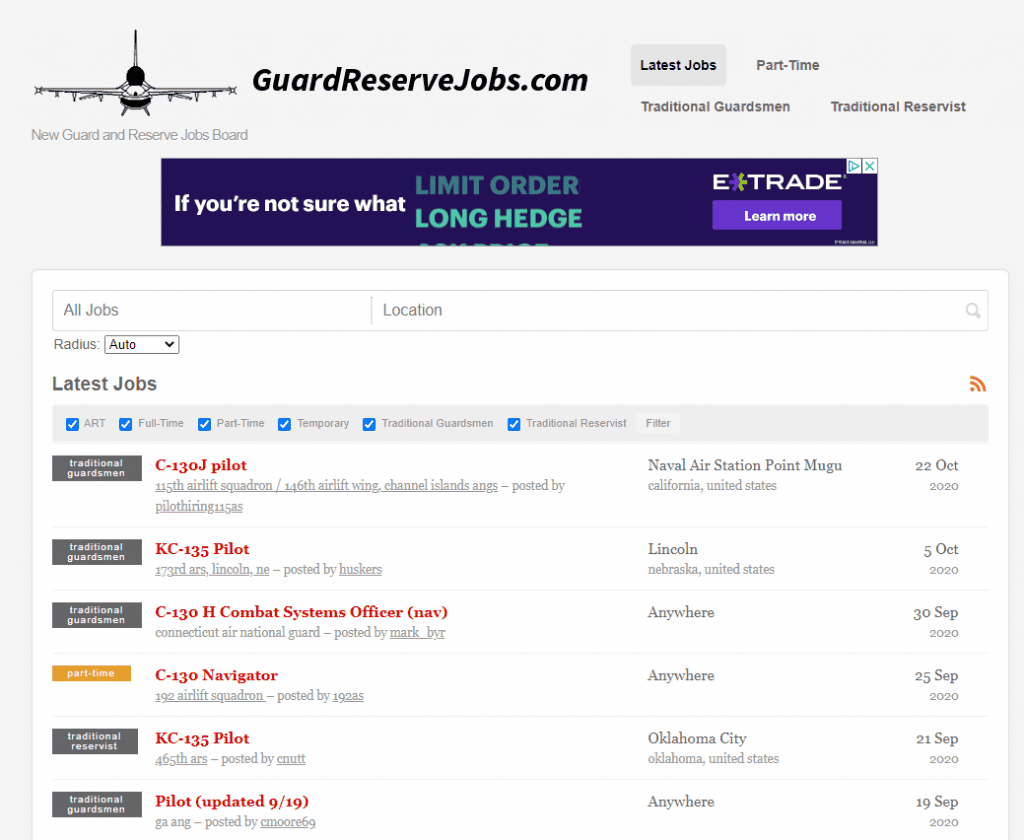 3. Social Media

Just about every Wing has a Facebook account. Historically, there have been several cases where a job opening was posted on social media only. This seems relatively rare, but it's still something to keep in your crosscheck.
4. Word of Mouth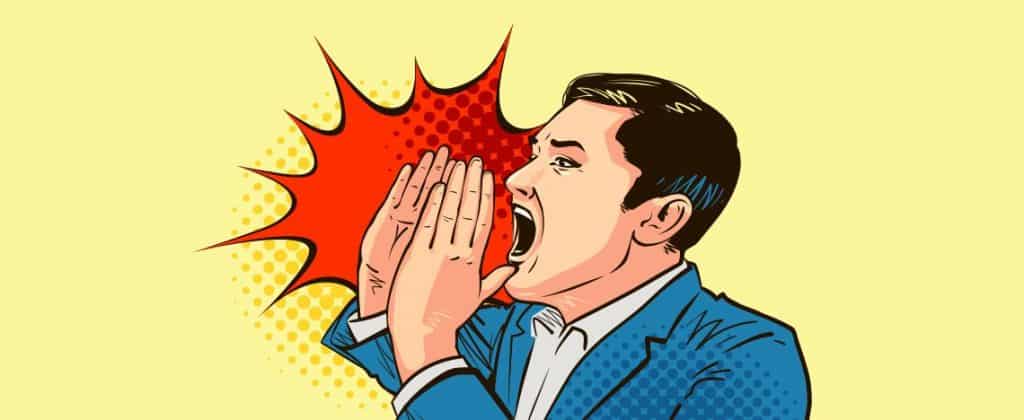 Unfortunately, for a few squadrons, the only way to discover that the unit is hiring is to hear it from someone on the inside. This is especially true for rated boards. This means that you'll have to track down the POC at that particular base to get the latest hiring information. Some units will add you to an email list, while others will just tell you to check back later.
As frustrating and time-consuming as this can be, the good news is that their lack of advertising may make the application pool smaller. If you're one of the few people that put in the effort to seek unannounced job openings, you may be rewarded with a higher statistical shot at getting an interview.
The MilRecruiter Squadron Map will show the most recent contact information, as well as the date of the last hiring board. If it's been over a year since the last board listed on our map, there's a decent chance they haven't been advertising and deserve a call to get more information.
What's Required in Your Application?
The majority of the items in your application will be the same from squadron to squadron with slight modifications for each. Here's a list of the most common items required to submit an application:
UPT Applicants
Resume
Cover Letter
AFOQT Scores
PCSM Scores
College transcripts
3 Letters of Recommendation
Copies of FAA certificates
Copy of the last page of your logbook
Military performance reports (if applicable)
Some squadrons may also require:
Headshot
Video Introduction
Various recruiting/medical forms
Squadron specific questionnaire
Rated Applicants
Resume
Cover Letter (optional)
List of References (optional)
Letters of Recommendation (optional)
Some squadrons may also require:
Last 3 military performance reports
Flight record
Official military duty history