Ultimate OTS/TFOT Guide (Part 1)

Dear BogiDope Readers,
We have a treat for you today! A recently-commissioned Second Lieutenant wrote a fantastic report about what to expect at Total Force Officer Training (TFOT, formerly known as OTS). Many of our customers find their Guard or Reserve units, or find their way to Active Duty, as new-hired directly "off the street" and have to complete TFOT as the first step in their training. If you're headed that way, you're going to want to buy Lt Cooper a drink after you read what he has to say.
There's a lot to cover, so we've broken this post up into two installments that we'll be publishing over the next two weeks. We hope you enjoy!
—
If you've recently been hired by a squadron and are reading this article in preparation for your upcoming TFOT class, let me be one of the first to say congratulations! The journey of a lifetime is on the tip of your fingers.
If you are reading this article with the hopes that you'll soon be getting that life-changing phone call; good for you and keep pushing! It's absolutely worth it. 
This article will explain what OTS/TFOT is, what you need to prepare for to dominate OTS, what you should bring, what life as an OTS student looks like, and it details some of the main events of OTS. 
Table of Contents
Life at OTS

OT Roles/Responsibilities

Main Events During OTS

In-processing day

Pennant Test

SPT 1 & 2

PFB & PFA

Paper 1 & 2

AA1 & 2

LRC

Briefing 1 & 2

HELPS

WELPS

ORI 1 & 2

Dorm Inspection 1 & 2

Deployment Week

Grad Week

Resources
What is OTS/TFOT?
The Air Force has three commissioning sources: The Air Force Academy (nerds), Reserve Officer Training Corps (ROTC), and Officer Training School (OTS). As a Guard/Reserve hire, you will commission through OTS.
OTS is a ~9-week introductory military training school located at Maxwell AFB, AL. The mission of OTS is to educate and train officers of character who are committed to the Air Force core values – equipped to lead and ready to win. As of 2019, ~55% of Air Force Officers commission through OTS.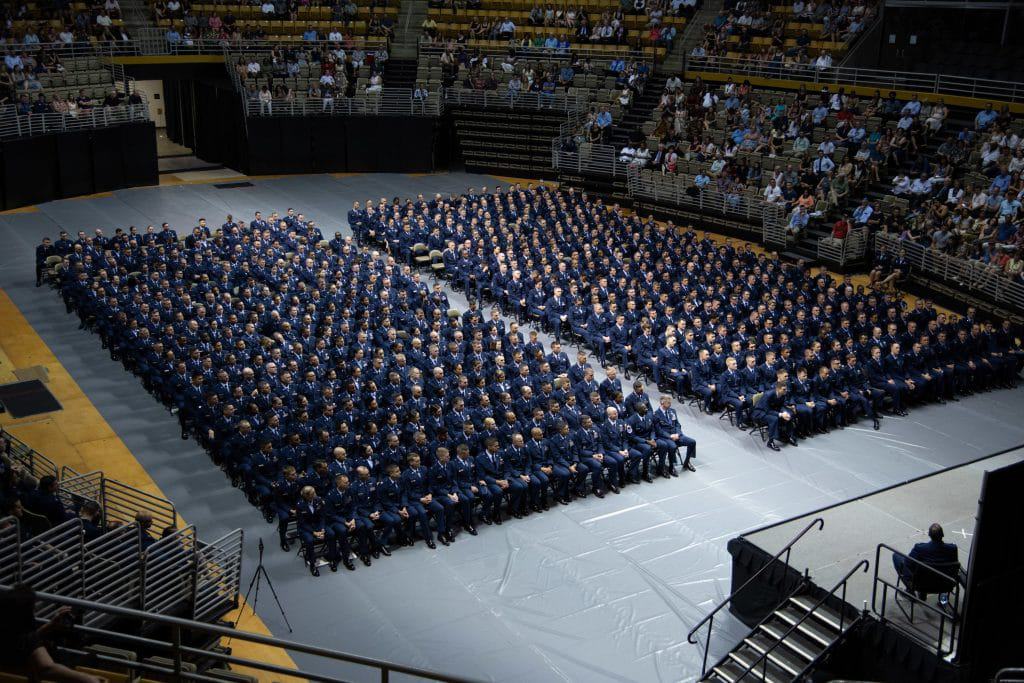 The basic curriculum consists of 30 hours of prerequisite distance (online) learning followed by ~9 weeks of military training; including team building, followership, military and leadership knowledge acquisition, and leadership application. The goal of OTS is to instill high standards of conduct and provide officer trainees with the essential military knowledge and skills needed for effective performance as Air Force leaders.
In casual conversation, OTS and Total Force Officer Training (TFOT) are often used interchangeably. In short, TFOT just means that Active Duty, Reserve, and Guard members (the total force) will train side-by-side in the same course/curriculum. In the past, Guard and Reserve members completed a different curriculum than their Active Duty counterparts. 
It is worth noting that OTS is a continually changing school. The curriculum is regularly being tweaked and modified; do not be surprised if some curriculum changes take place between the time this article is written (Dec '19) and the time you attend OTS. 
Also, of note, a new Commandant will take command sometime in the near future (2020/2021) who has made it very clear that he is pushing for all TFOT students to attend Basic Military Training (BMT, ~9 weeks) with the Enlisted force prior to attending OTS. As of Dec '19, this has neither been approved nor officially planned for, however, high-level discussions are taking place and there seems to be strong support among the staff.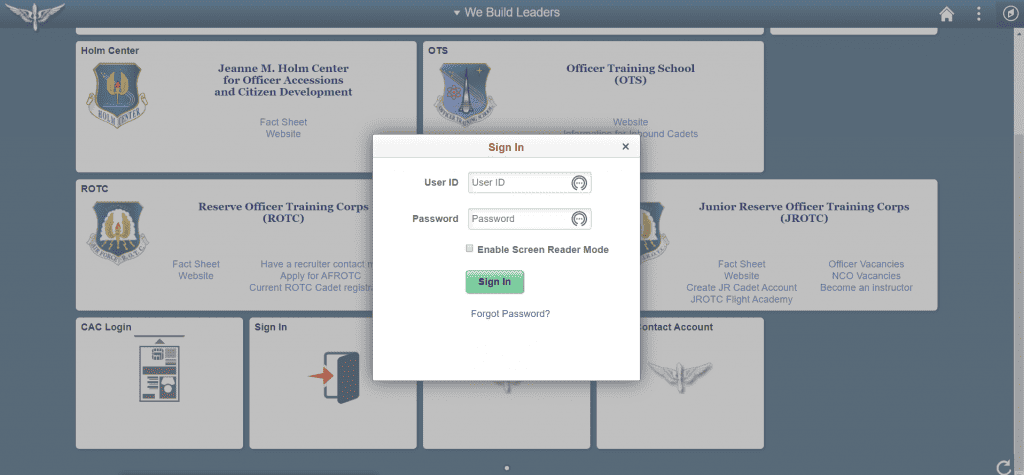 Preparing for OTS
**If you are unfamiliar with the Air Force PT test/have not passed a mock PT test/are unconfident in your ability to successfully pass the PT test 100% of the time, stop reading IMMEDIATELY and go take one. Very few things will get you removed from OTS; failing the PFA PT test is one of them.
If you have a CAC (aka Military ID card), the next thing you should do is order name tapes and branch tapes. You can order them here and here. If you do not have a CAC, you will likely have to wait to order them at Maxwell's AAFES. Order at least 4 pairs. This is important to do ahead of time because it typically takes a few weeks to get these delivered. You will be able to receive mail during OTS however my class did not get access to mail service for a few weeks.
Pre-course Material
Approximately 2 weeks prior to your OTS start date, you will receive an email from wings@holmcenter.com asking you to validate your enrollment in the upcoming class. Follow the directions in that email and you will gain access to the pre-OTS coursework. The OTS Registrar is fairly responsive; if you have any issues, they should be able to resolve them promptly. If you need help, you can reach them at ots.registrar.workflow@us.af.mil. There is a video, here, with information on how to configure your browser properly to complete the pre-OTS coursework. Do yourself a favor and complete all of the material prior to arriving at OTS. There will be time allocated in the schedule to finish it during your first few weeks, however if you complete everything before arriving you will be able to use that time to do other things. The pre-course material is supposed to take 30 hours to complete but it is possible to finish in much less time.
PT Test
During OTS you will take two formal PT tests; the PFB (taken within the first 2 weeks) and the PFA (taken week 6). The PFB is considered a "baseline" test and it is used for self-evaluation as well as to give the instructors an idea on who might need remedial PT. The PFA is the first official PT test of your career; failing it will possibly get you removed from OTS or recycled back to Day 1 of the next class. 
The Air Force PT test is widely publicized (PDF) with plenty of quality information and training material available for it. There is not much to elaborate on this topic; go into OTS being able to pass the PT test on your worst day. Do not go into OTS expecting to improve your PT score.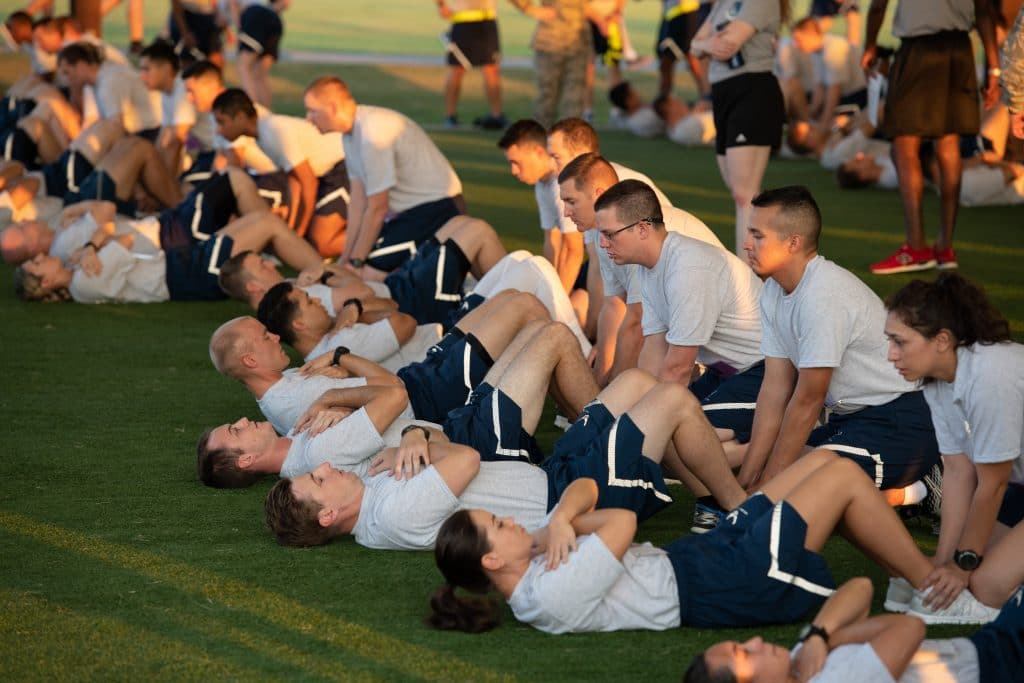 OTS is a large group of very different people shoved into close proximity, put under stress, and kept mildly sleep-deprived; the majority of people will eventually get sick. A bad strain of flu went around while I was there and I was lucky enough to be one of the recipients of it. It was one of the worst colds I've ever had in my life and I barely got out of bed for 3 straight days; the PFA was the following week. Don't put your career in jeopardy over this; be ready for it, period-dot.
Dorm Manual
At some point in the time leading up to OTS you **should** receive an email or get access to the OTS Dorm manual (to the best of my memory and records, I did not). However, if you do not receive it, you can find it here and at the bottom of this article. The Dorm Manual is your complete how-to for everything in the dorms. You will be expected to adhere to the dorm manual throughout OTS and will be inspected periodically to ensure that your room is neat, clean, organized, and standardized. This means everything beyond the threshold of your door is your (and your roommate's) responsibility.
You will receive at least two graded dorm inspections throughout your time at OTS and you will have to pass at least 1 of these (80% or greater) in order to graduate. In my experience, the dorm inspections were typically announced a few days in advance and, as long as you follow the dorm manual, you will pass these with relative ease. Pay close attention to the details (the written explanations-  the pictures are deceiving and often incorrect) as there are specific positions for everything. The best advice I can suggest is to print out the dorm manual before arriving at OTS and start working on getting your dorm inspection-ready as soon as you arrive. If you're confident in your clothes-rolling abilities, it might even be a good idea to arrive with your clothes pre-rolled. You'll know when your first inspection is coming and it's your responsibility to be prepared when that time comes.
What to bring to OTS
Packing List
Prior to arriving at OTS, you will receive an email with the Welcome Guide that will have in it a "Uniform packing list/Required items" that details exactly what you need (pictures below).
If you have access to an AAFES/Mil clothing store, I STRONGLY suggest purchasing everything you intend to purchase prior to arriving at OTS (some people bought Mess Dress, others rented it). During the first week you will be taken to the OTS Shoppette to purchase what you need, but keep in mind the Shoppette is very small, you will have limited time, and there will likely be ~100 other Officer Trainees attempting to do the exact same thing you are. I purchased about ½ of the required items before OTS and, if I could do it all over again, I would absolutely have spent the time getting everything before. 
Important Info regarding the packing list:
If you are a non-prior purchasing uniforms for the first time, the Airman Battle Uniform (ABU) is being phased out in the next few years and is being replaced with the Operational Camouflage Pattern (OCP) uniform. It would not make financial sense for you to purchase any ABU clothing. 

While it is highly recommended to purchase three pairs of uniforms, keep in mind that everything you purchase will be in your dorm room and, accordingly, inspectable during dorm inspections. As long as you do laundry regularly, you should be fine with two. Full disclosure: I had 3 pairs but I really only ever wore 2 during any week. If you think you'll outsmart the MTIs by living out of your laundry bag the whole time (you'll hear a lot of prior enlisted suggest this trick from BMT), you won't. You can take your chances (I did) but someone will get caught and have all their things dumped into the hallway. This is the MTI's job and they know all the tips and tricks. 

If you are attending OTS during the winter months (October-April) make sure that you purchase cold-weather gear

. OCP Fleece, watch cap, gloves, long sleeve PT shirt, running pants, PT jacket, thermal underwear, waffle shirts, etc. will be your best friend and make your life much warmer during your time at OTS. I was the big and tough (and handsome)

wannabe

fighter pilot who determined he didn't need any of these things; 4.69 minutes into our first 0430 PT session and I would have run to AAFES to buy everything they had in stock if I had any feeling left in my legs.

You absolutely want a hat, jacket, gloves, etc. if you're scheduled to attend OTS/TFOT during cold weather months. (U.S. Air Force photo by Sarayuth Pinthong)

You will absolutely need a laptop; PC/Windows preferred as Mac will format differently when you submit your bullet point papers (more on those later).

I strongly encourage you to bring a printer with an additional cartridge of black ink and a printer cable so you can connect directly to your laptop. The WI-FI in the dorms is password protected and I don't know anyone who was able to connect their printer through it. Having a printer is a huge value-add to yourself and your flight, you will absolutely have a use for it.

Bring a good pillow and a blanket with you. Whereas the beds are marginal, the pillows you'll be issued are terrible. See #3 for reasons why I did not bring a pillow with me. You're going to be tired and uncomfortable enough in the first few weeks, I imagine it would have made things a little more enjoyable if I didn't have to sleep on a pile of rocks every night. After 5 weeks, I eventually caved and had my wife send me a care package.

If you have a talent for growing facial hair, do yourself a favor and bring an electric shaver as well as regular razors. During the first few weeks of OTS you will be given anywhere from 5-15 minutes to get ready in the morning. I did the whole full-shave with a razor and shaving cream gig for a while and eventually learned from my prior-enlisted peers by getting myself an electric razor. It will save you 5 minutes every morning, some blood, and maybe a few 341s. 

Realize that OTS is a school.

You will sit in a flight room (and auditoriums) for lectures and will be tested on the materials taught to you.

You will need materials to write and take notes with.

Before becoming the upstanding Officer Trainee that I eventually became, young OT Cooper spent the entire week before OTS in Las Vegas casinos staying up far too late, spending far too much money, and generally having a great time; I also showed up to OTS with no pens, no paper, and, apparently, no common sense. Would I do it again? Absolutely. Would I also make sure I have all those materials ready before leaving for Vegas? 100% yes. It will save you from the same headaches I put myself through.

Make sure you show up ready and willing to learn. All of your academic tests and papers will take place within the first 3 weeks of OTS. A lot of information will get thrown at you in a hurry. Don't be the one who falls behind because you weren't ready.

As mentioned earlier, you will probably get sick at some point during OTS. Bring some EmergenC, DayQuil/NyQuil, and some Advil. 

Bring a Tide To-Go pen for when your pens leak ink all over your OCP sleeve during marching drills in the rain.

You will be issued a CamelBak upon arrival at OTS. You can still purchase a better one but make sure you check the regulations beforehand. 
Required Documents
Depending on your specific demographic, you will have a number of required documents that you should have with you when you arrive at OTS. I will post the required document list below the packing list.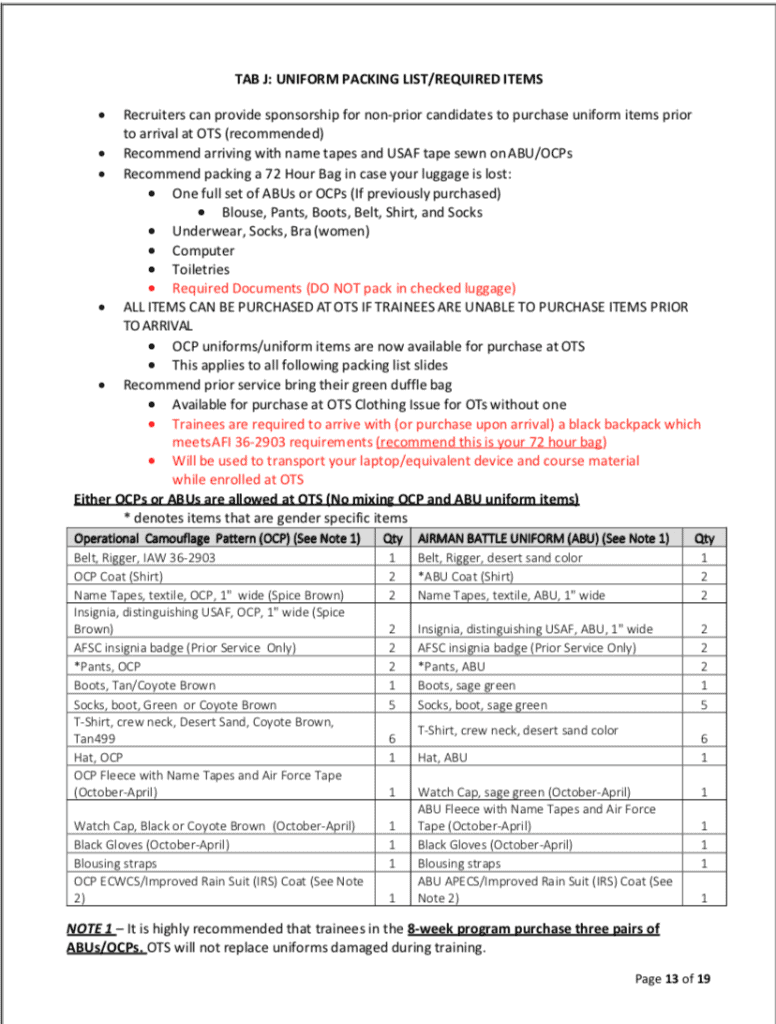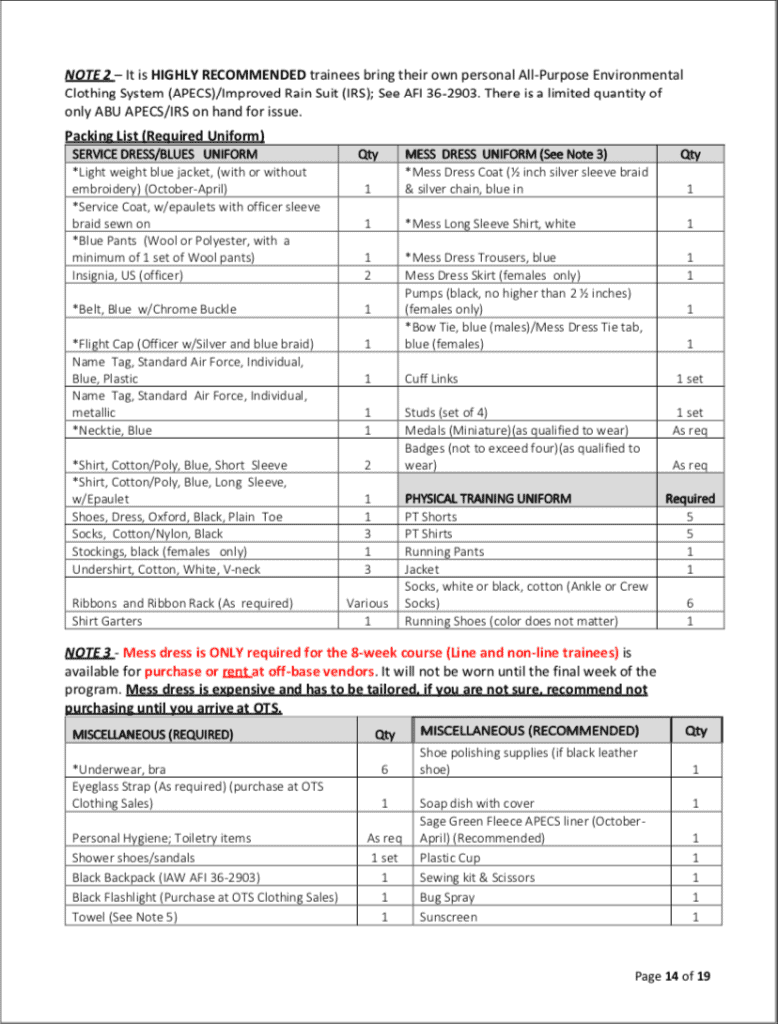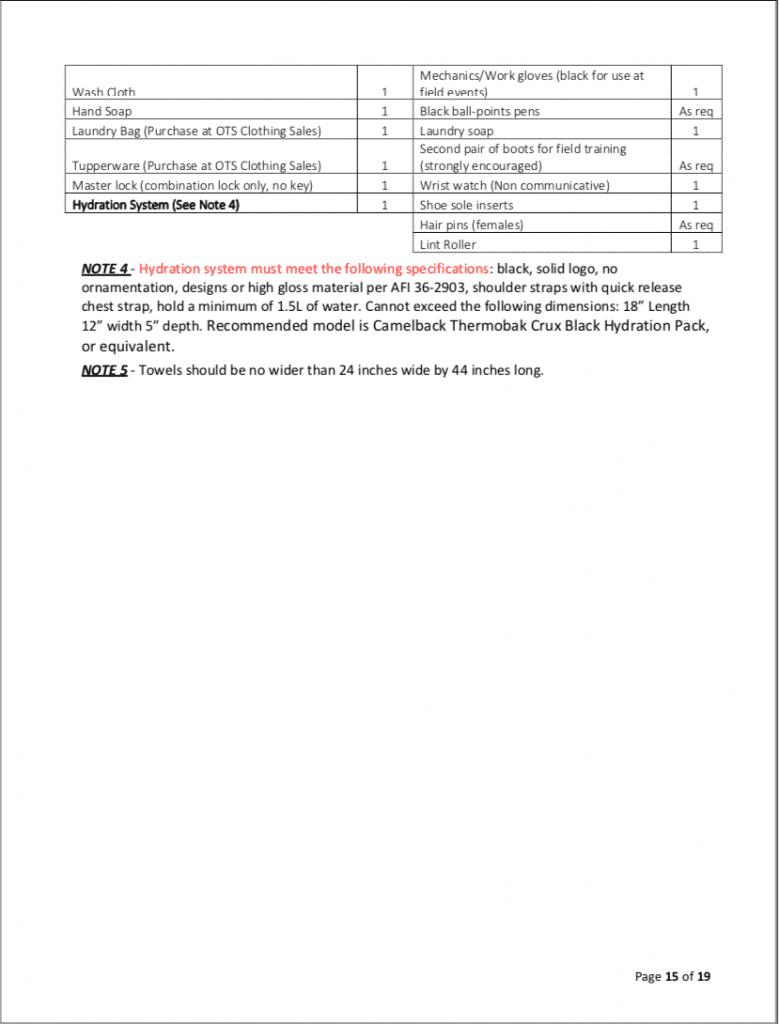 Required Documents: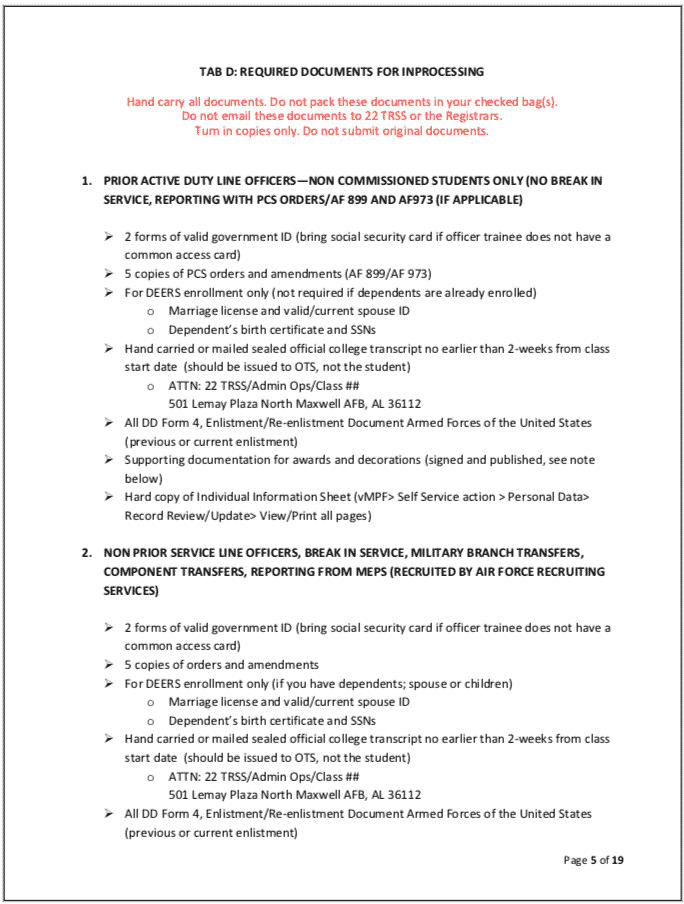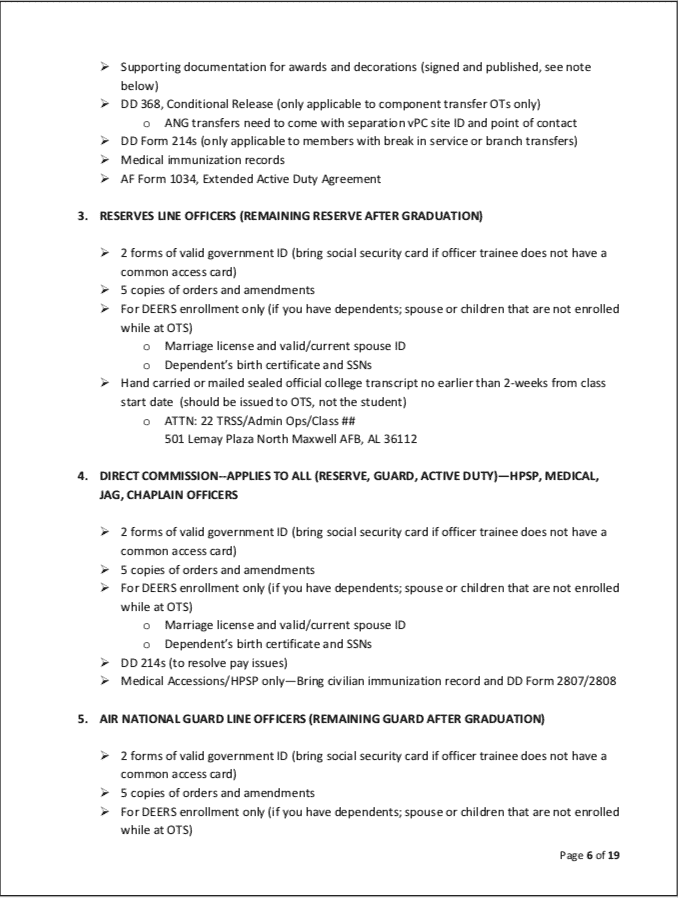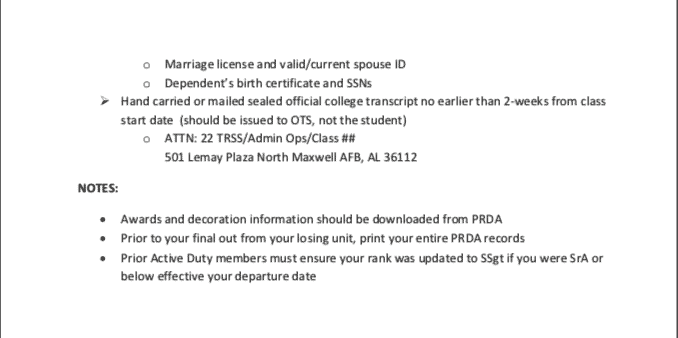 Check back in next week for Part 2 where we discuss life at OTS!
Image Credits:
This post's featured image is: https://www.dvidshub.net/image/5791234/ots-godzilla-class-graduation.
The graduating class sitting in a stadium is from: https://www.dvidshub.net/image/5836880/ots-godzilla-class-awards-ceremony.
The Air Force Fitness Test photo is from: https://www.dvidshub.net/image/5673700/ots-godzilla-class-pt-test.
The people marching in cold weather OCP gear is from: https://www.dvidshub.net/image/5908116/watch-your-step.
All other photos were provided by Lt Cooper.