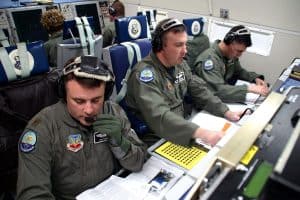 The Air Battle Manager (ABM) is a highly-specialized, highly-trained professional in a career field that is not widely known or recognized. These aviators take to the skies and control the air battle (as the name implies). With extensive airborne radar-coverage of the area, they provide Situational Awareness (SA), airborne coordination and threat warnings for the myriad aircraft involved in achieving air dominance over hostile territory.
With the potential to be managing hundreds of weapons, sensors and fuel states across dozens of aircraft, ABMs serve as a central control-hub to bring all assets to bear against ground-based and airborne enemies. Whether in a JSTARS, coordinating air-to-ground strikes, an AWACS, managing Offensive and Defensive Counter-Air (OCA and DCA) missions against attacking or invading enemy-aircraft, or running refueling operations from a CRC (Control and Reporting Center – a ground based system for controlling aircraft), ABMs act as the central nervous-system for the air and air-to-ground battle.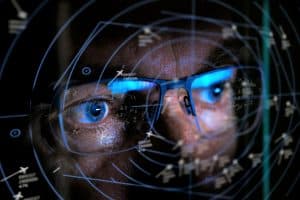 The primary systems from which ABMs operate are: E-8 JSTARS, E-3 AWACS, and the CRC.